Having a fireplace in the home means having a built-in focus for the room. The eye naturally gravitates to the fireplace, which makes it the ideal place to create an accent for your interior design.
There are many ways you can create a statement using your fireplace surround and natural stone makes the ideal material. Ledgestone, a honed and cleft-faced stone made of granite, limestone, sandstone, or travertine, can add character and interest to the area, as well as dimension and color.
Ledgestone Panels
–Mountain Rust Ledgestone Panels
Ledgestone gives your fireplace the appearance of a "dry fit" or "dry stack" installation. This means that the pieces of stone are installed tightly fitted together, without grout or another material separating them. This is part of what gives Ledgestone its character and its beauty.
To make the installation easier, ledgestone is available in panels, with the individual stone pieces adhered together into a 1 square foot section. This makes the installation simple and much faster than other stone installations.
Edging
Like all natural stone, Ledgestone can be left with the edges exposed. Simply addding mineral oil to the cut sections brings out the rich color of the stone and pairs it better with the face of the stone. This enables you to install a fireplace surround that extends the length of an entire wall, or to simply frame out the area directly around the firebox.
For fireplaces that are set off the wall slightly, Ledgestone also has corner pieces available that can turn the corner with ease, giving a more three-dimensional look to the installation. This is ideal for column fireplaces, fireplaces that divide two rooms, or surrounds that simply need a heftier appearance.
Style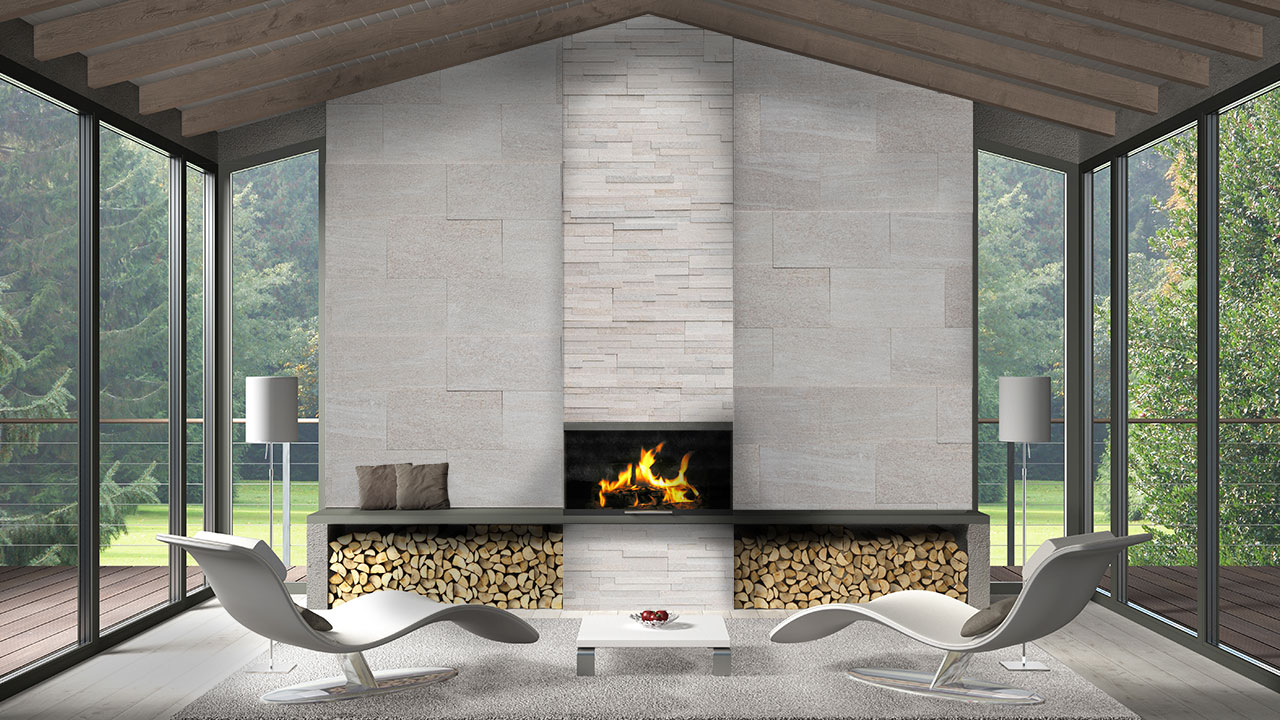 –Berkshire Buff Ledgestone Panels, and Tiles
Like all natural stone, Ledgestone can be used to create a wide range of styles, from traditional to contemporary. Whether you have a traditional wood-burning fireplace or you are installing a new gas fireplace, you can complement not only the style of fireplace but also the décor in the rest of your home.
Ledgestone can be installed floor to ceiling to create a focal point that dominates the décor of the room for a traditional appearance.
You can also install the material on just a portion of the wall, either vertically or horizontally, to create a more contemporary façade for your surround. By varying how the material is applied to the surround, as well as the color of the stone you choose, it's possible to create a variety of different looks.
Because natural stone has such a heavy and architectural appearance to it, you can use it to create passageways, columns, walls, cubbies, and a variety of other looks for your home. Doing so can allow you to expand from a simple fireplace into a complete showpiece within your home. Use the material to enlarge and expand the area of focus until it's no longer a flat section of wall, but an architectural element that can help you set the tone for the rest of the room's interior design.
Color
Ledgestone is available in a huge array of beautiful shades that can complement a variety of homes. Because they are natural stone, the pieces that make up each panel may vary in color, texture and veining from piece to piece. This is part of what gives stone its unique beauty.
When choosing a Ledgestone for your fireplace, find one that complements some of the accent colors already in the room. Or, for a more dramatic statement, choose a Ledgestone that contrasts the rest of the room's décor to make the fireplace pop.
Create the Perfect Ledgestone Fireplace
Ledgestone fireplaces are beautiful additions to any home. Whether you want a traditional look or something more contemporary, the natural beauty of stone can help you achieve your goals. With easy installation and several colors to choose from, Ledgestone makes it simple to create the fireplace of your dreams. Create the perfect accent piece for any room of your home with the addition of a Ledgestone fireplace to capture this beauty and dimension for yourself.