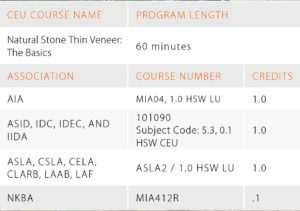 NATURAL STONE THIN VENEER: THE BASICS
We are pleased to bring you the latest course developed in
conjunction with the Marble Institute of America. Natural Stone Thin Veneer: The Basics is accredited by AIA, ASID, ASLA, IDC, IDEC, IIDA and NKBA. This one-hour class is designed to provide you with a basic understanding of the relatively new application of natural stone as a thin veneer. Learn the history and best uses for different types of stone veneer, how thin stone is produced, and common application techniques and opportunities. This highly visual presenta- tion illustrates all topics with plenty of beautiful photos which exemplify the beauty and durability of natural stone in structures around the world.
LEARNING OBJECTIVES
Explore the history of, and best uses for, different types ofveneer.
Learn how natural stone thin veneer is made and whatproduct variations are available.
Discover the advantages over anchored veneer and manufactured stone.
Learn about application techniques and opportunities.