If you like to entertain, having an outdoor kitchen can really enhance your parties. With an outdoor kitchen, you and your guests have everything you need right at your patio, deck, lanai, or pool. There's no need to keep going into and out of the house, your drinks, food, grill, and other items are all right where you are.
Outdoor kitchens come in many shapes, sizes, and configurations. Most will, at a minimum, contain a grill or cooktop and some form of refrigeration. Beyond that, you can customize your outdoor kitchen to include seating, smokers, pizza ovens, wine coolers, and more.
These seven beautiful outdoor kitchen ideas will give you a glimpse of what may be possible to create in your own home. Take a look and get inspired to create the perfect outdoor kitchen of your own.
1. Central Patio Kitchen

-Hive Barnwood Tiles
The location of your outdoor kitchen should be one of your first decisions. This central patio kitchen is accessible on all sides and includes seating for guests. The island itself features a barn wood tile in a hexagon pattern that sets it apart from the surrounding landscaping, so it becomes a focal point, as well as a central gathering place.
2. Kitchen with Lounge Area

-Sierra Shadowstone Panels
Because outdoor kitchens are central to entertaining outside, it makes sense that you may want to include a seating area, as well. This kitchen features a long bar and countertop with seating, as well as a separate seating area surrounding a fire pit, so guests can eat at the kitchen or move away slightly for conversation. Both areas feature the same stone veneer for a cohesive look.
3. An Updated Grilling Station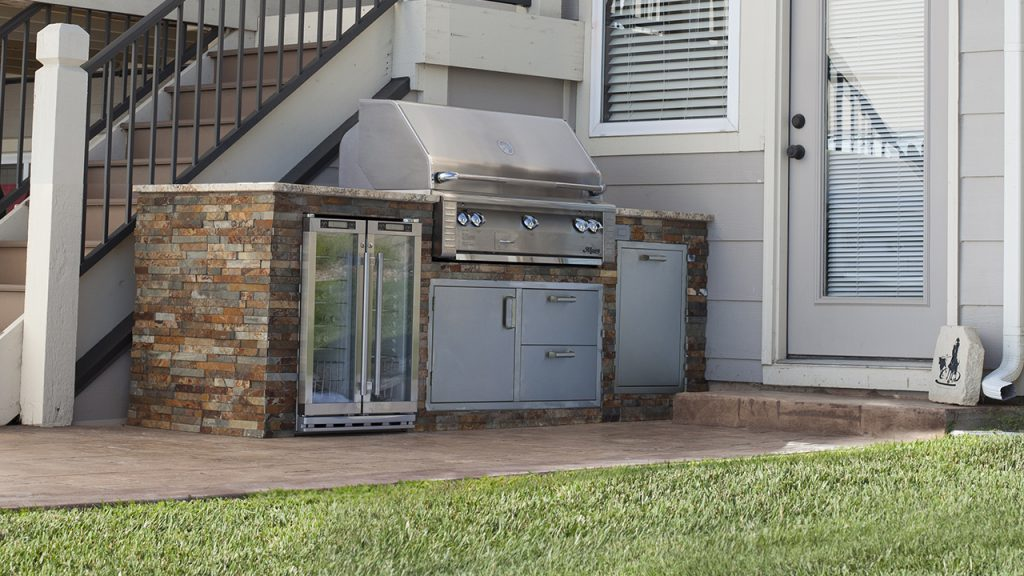 -Terracotta Shadowstone Panels
Outdoor kitchens don't need to be large, elaborate affairs. This simple kitchen is an upgraded grill with refrigeration, storage, and counter space built in. Located right next to the door, it makes outdoor cooking easy in the warmer months. Clad in natural stone, it has a permanent and classic appearance that makes it a focal point in the landscaping.
4. Complementary Appearance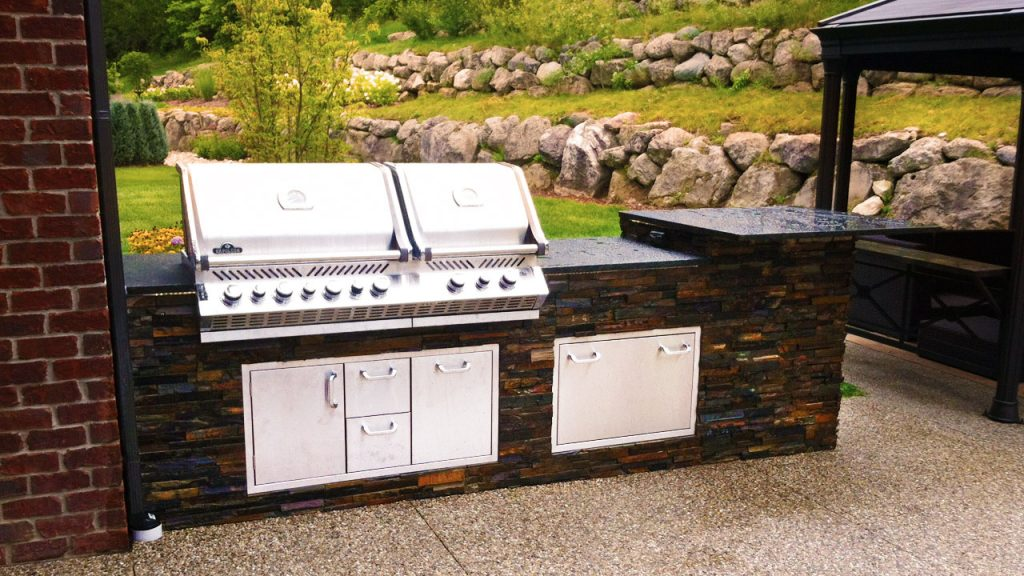 -Terracotta Ledgestone Panels
While most outdoor kitchens are added after the rest of the house and landscaping has been completed, this doesn't mean they shouldn't complement the rest of the area. Located against the red brick of the home, this outdoor kitchen features a rich terracotta stone veneer that complements the rustic landscaping and the color of the brick for one, unified appearance.
5. Sink and Shade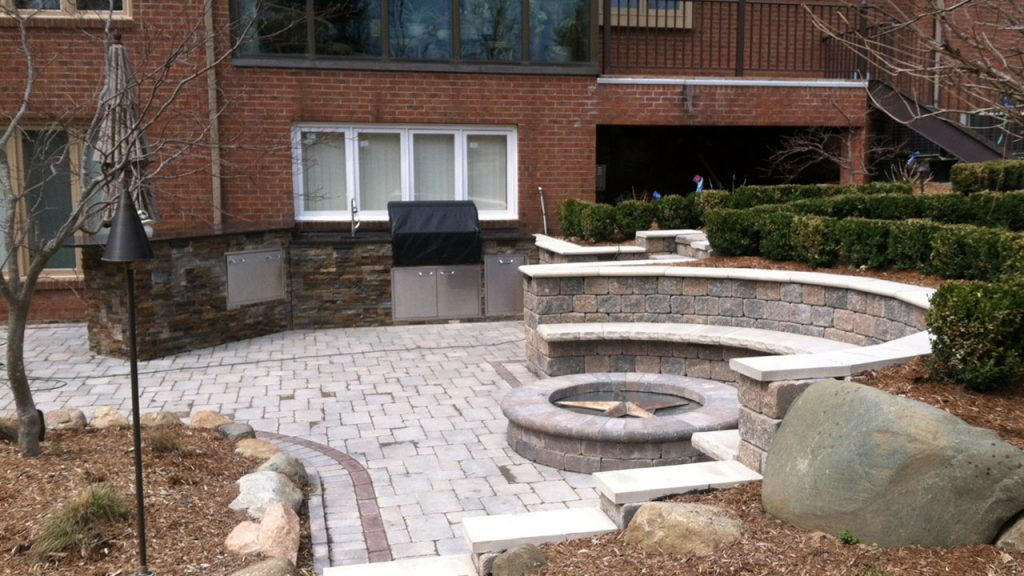 -Terracotta Ledgestone Panels
When designing your outdoor kitchen, think about what it is you want to accomplish there. This kitchen features a sink beside the grill for fast cleanup. It also has a shaded seating area, so guests can enjoy the kitchen even if the weather heats up.
6. Keeping It Light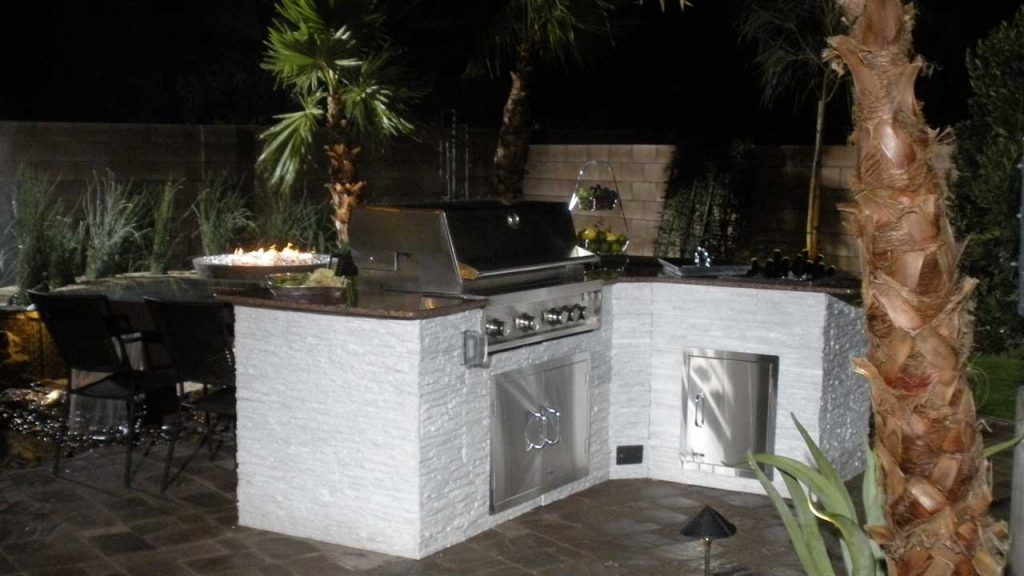 -Arctic White Thin Panels
If you entertain after sunset, then be sure to pay close attention to the color of your outdoor kitchen, as well. This grill is outfitted in a thin-strip veneer in Arctic White, which makes the most of any ambient light in the evenings. Your guests won't have any trouble finding the bar or the grill even on the dimmest of evenings.
7. Framing the Area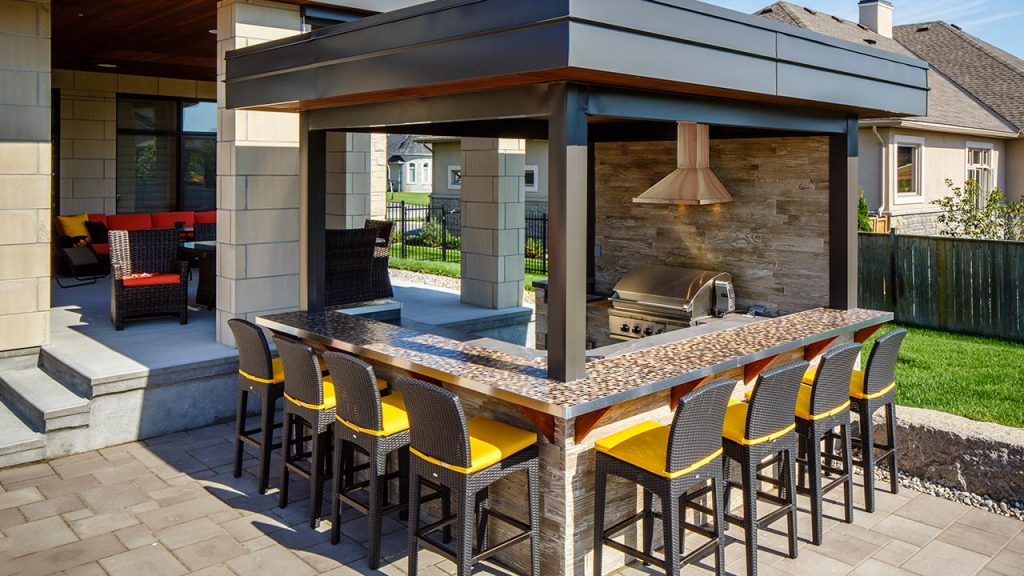 -Antique Wood Driftwood Panels
If you plan on entertaining outdoors year round, consider giving your outdoor kitchen an enclosure. This space includes a roof to keep out the elements, and the same antique driftwood panels are used both as an accent behind the grill and on the exterior façade. This helps frame the area and makes it one dedicated and separate space from the rest of the patio.
Create the Perfect Outdoor Kitchen Space
Outdoor kitchens enhance your landscaping and your lifestyle. Pay attention to the location and how you plan to use the kitchen to get the best results. The sky's the limit when it comes to what you plan to include, so start designing your perfect outdoor kitchen space today.