When you enter a bedroom, your eye automatically seeks out the area where the bed is. This natural focal point means that what's installed near or behind the bed is very important.
For this reason, many people choose to use decorative or eye-catching headboards to help solidify the accent area. Many older, traditional-style beds come with a headboard that's usually fairly prominent in design. Modern and contemporary style beds, however, often lack this important feature. For this reason, many people choose to create a headboard of their own to help capture the look and interest that it can bring.
While you can use a variety of materials to create a headboard, one of the most versatile and interesting is reclaimed wood. Reclaimed wood has a history that shows through in the patina, knot holes, or nail holes you'll see on each piece. It's an instant conversation piece and can complement a wide range of different decors from traditional to contemporary.
Reclaimed wood wall panels help make this project easier. Big or small, light wood or dark, reclaimed wood panels make a beautiful statement in your bedroom, and they make creating a headboard fast and simple, as well.
Headboard Style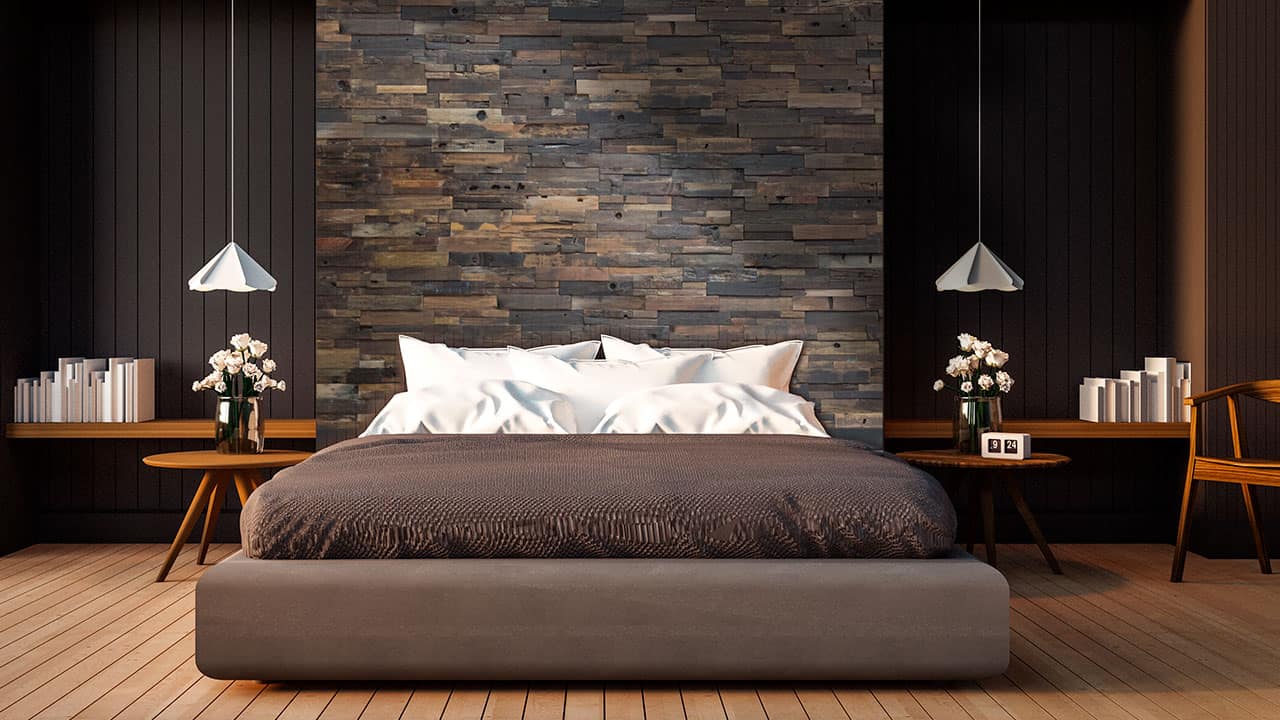 Begin your project by determining the size and style of the headboard. You can create a small, framed headboard that will extend just a few feet past the bed, or you can make an elaborate accent wall that extends straight to the ceiling.
You'll also want to choose the overall tone of the wood. Reclaimed wood will have a lot of variation in color and personality, but reclaimed wood wall panels come sorted into two basic colors: dark, and a lighter multi-color panel. Both will give you a lot of character for the headboard.
How to Create a Simple Headboard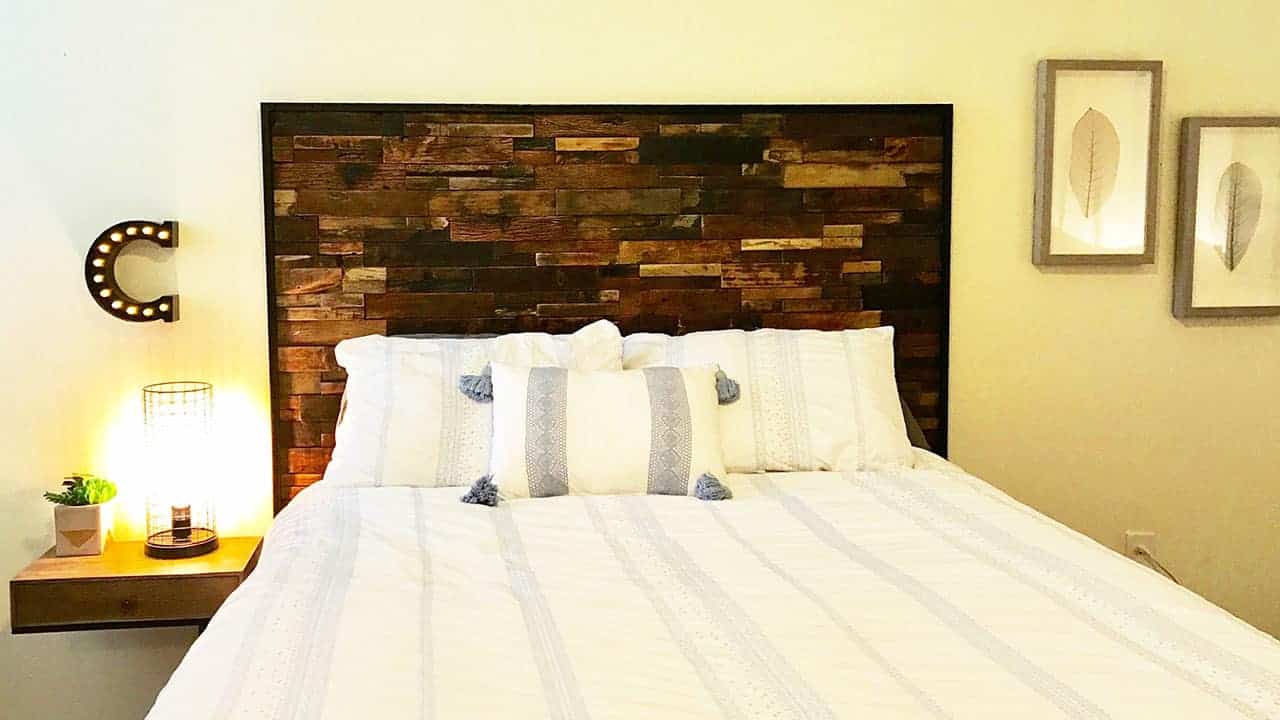 The overall shape, size, and color of the board are up to you. Use these instructions to create a simple headboard using reclaimed wood wall panels.
Materials
Piece of plywood the ultimate size and shape of your headboard

Level

Measuring tape

Saw

Miter for corner cuts

Adhesive

Adhesive gun

Nail gun

Wood molding stained in your choice of color
Instructions
To make your eye-catching reclaimed wood headboard, follow these instructions.
First, measure the area you want your headboard to cover so you can purchase a sheet of plywood in these dimensions and enough molding to go around the perimeter of the headboard.
Since you're working with wood, you will need to set the reclaimed wood panels in the room you will install them in about 3 to 5 days ahead of installation to let them acclimate to the temperature and humidity in the room.
When you're ready to start installation, dry fit the wood panels onto the plywood, beginning at the bottom center and moving out evenly to each side. The panels are designed to interlock into one another, so cut the panels at the edges of the headboard so that they form a clean edge. When you are satisfied with the placement and layout of the panels, remove them from the plywood and apply a bead of adhesive to the back of each panel. Press the panels firmly back into place on the plywood in the pattern or layout you determined earlier. Then, nail the panels securely into place.
To form your headboard, measure and cut the molding to create a frame. Use the adhesive to install the molding around the outside edge of the plywood to give the headboard a finished appearance.
Finally, all you have to do is lift the headboard onto the wall to fit into your desired position and nail it securely into place.
Because the wood panels are already laid out and color blended for you, you won't need to spend time piecing the individual sections of wood together, and your new headboard will come together in a matter of hours.
Create a Stunning Accent for Your Bedroom
Reclaimed wood wall panels are a beautiful addition to any room. Create a stunning accent for your bedroom by using them to make a DIY headboard. Big or small, light or dark, these wood panels are sure to give your bedroom the focal point you're after.