According to most landscaping professionals, more homeowners are expanding their living spaces to include the outdoors than ever before. Outdoor kitchens, patios, decks, fire pits, and pools are all becoming more commonplace, regardless of how large the property is or what type of architecture the home has.
To get the most enjoyment out of your new outdoor living area, you'll want it to not only function well, but to look great, too. Using stone veneer to clad your walls and other exterior features can give you a variety of  attractive looks that can complement any landscape design or architecture.
Using Exterior Stacked Stone Veneer
Stacked stone veneer is a beautiful addition to any exterior feature. Good quality stacked stone is easy to install, with consistent thicknesses and no grout lines to discolor or crack over time. The material can have a  rustic or modern appearance that fits in well with most landscapes, and because it's natural stone, you'll have no trouble finding a color that complements your surroundings.
Installing exterior stone veneer gives you the ability to create a more dynamic landscape, with a cohesive look that fits in with both contemporary and traditional gardens. It's also low maintenance, so you can enjoy your outdoor living space without a lot of upkeep.
Trends and Design Ideas
Exterior stacked stone veneer is so versatile, you can install it nearly anywhere. Take a look at these six design ideas to help get the inspiration you need to complete your perfect landscaping.
1. Pool Water Feature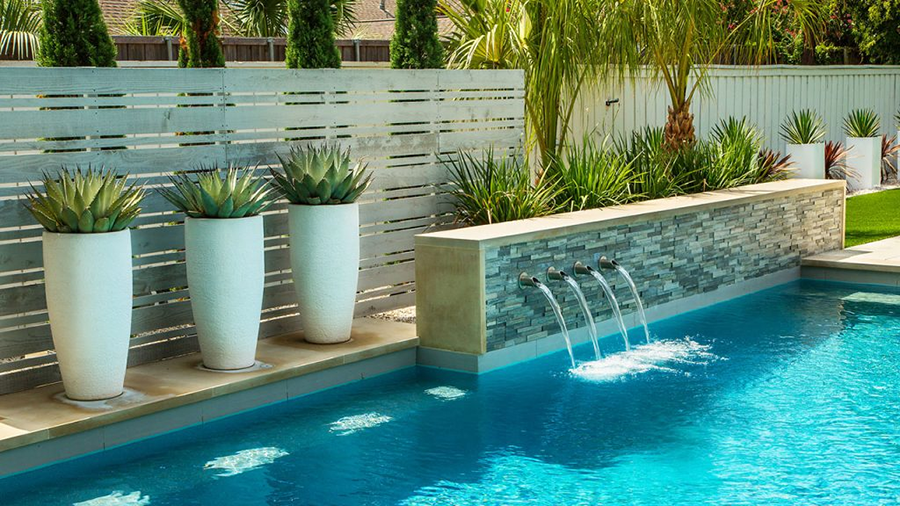 -Pewter Honed Panels
Water features are an increasingly popular addition to many inground pools. They can simulate the look and sound of a waterfall or give you a more tranquil and modern effect. In either case, you'll want to give the feature a natural appearance to help it blend in better with its surroundings, and stacked stone is one way to get the look you want.
In this feature, a honed stone is used with contemporary water fillers for a crisp, clean, and modern look. The cool silver-blue tones of the stone blend beautifully with the privacy fence and in turn contrast with the golden color of the limestone trim and pool deck.
2. Outdoor Kitchen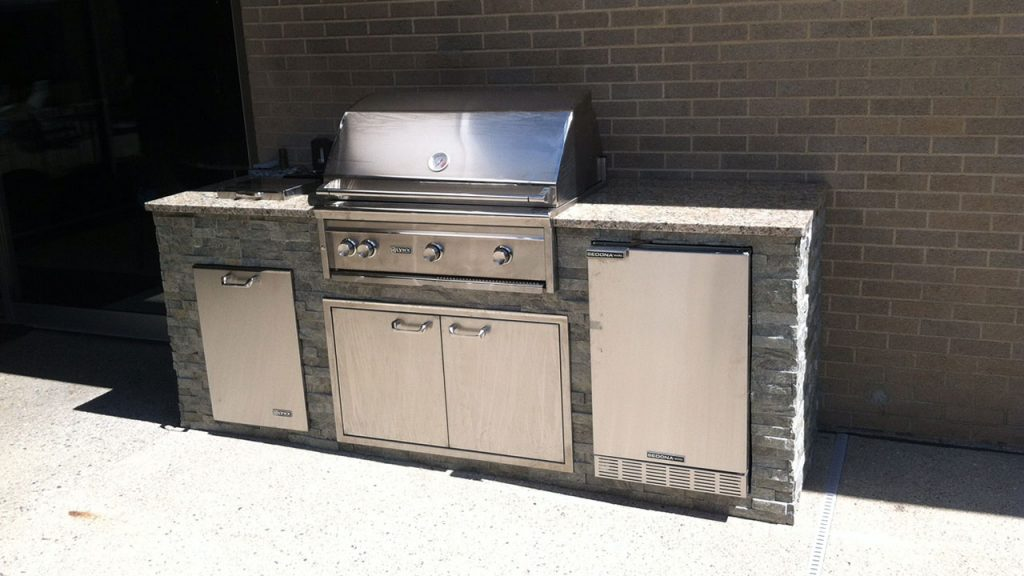 -Pewter Honed Panels
If you do a lot of entertaining, consider adding an outdoor kitchen to your patio area. Outdoor kitchens give you the ability to cook, store food, and entertain comfortably outdoors, rather than needing to constantly ferry things in and out.
Todays outdoor kitchen boasts all the luxury and beauty of the one inside. Granite counters and stone veneer bring a refined look to the simple grill, and are easy to clean up.
This outdoor kitchen is a great example of a monochromatic look, pairing the stainless steel components with a stacked bluestone cladding. Rather than having the disparate pieces of the kitchen simply grouped together, the stone helps to unify the kitchen and give it a more substantial look.
3. Outdoor Fireplace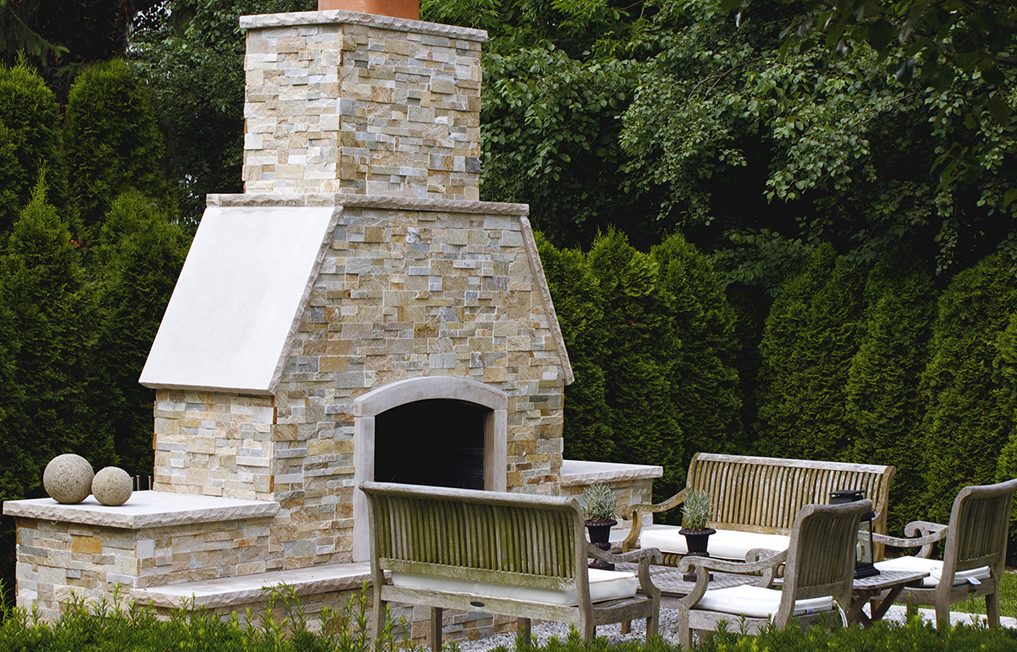 -Sierra Accentstone Panels
Another popular feature for entertaining outdoors is the outdoor fireplace. Fireplaces give you a gathering place and a focal point for the entire yard. Clad in stacked stone veneer, this fireplace also fits seamlessly in with the rest of the landscaping, so it won't look out of place outdoors.
At the same time, stacked stone has a cleaner more contemporary look than fieldstone, which means that it can complement a wider array of homes as well.
4. Firepit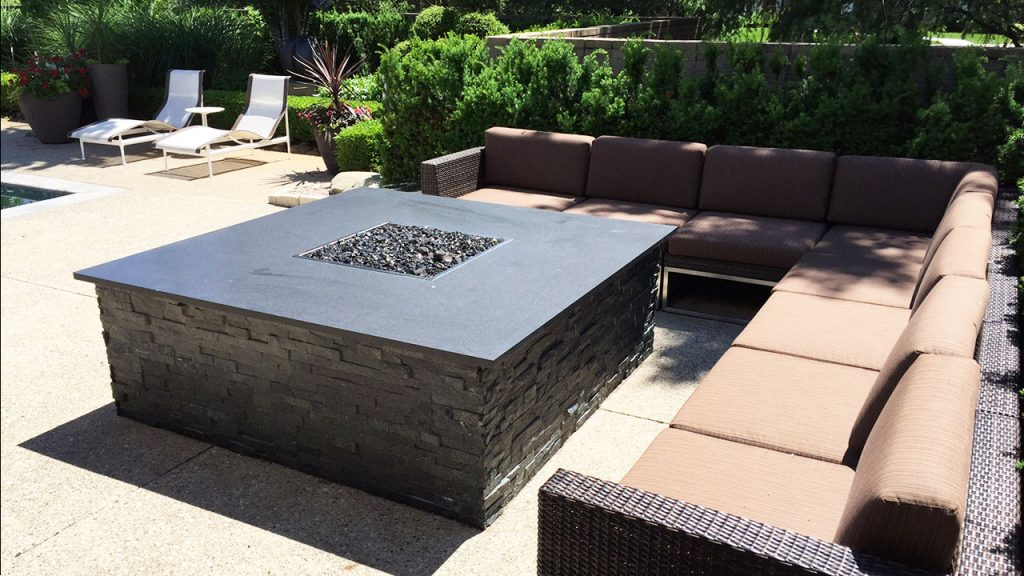 -Carbon Honed Panels
Firepits are another great gathering place for outdoor entertainment. And while many pits are rustic or plain in appearance, they don't have to be, especially when they're installed in a contemporary setting.
This gas fire pit has an impressive base clad in stacked stone veneer. The clean edges of the fire pit itself give it a contemporary vibe, while the cleft stone gives it a natural appearance that allows it to fit in well with the landscaping.
5. Two-Tone Outdoor Living Room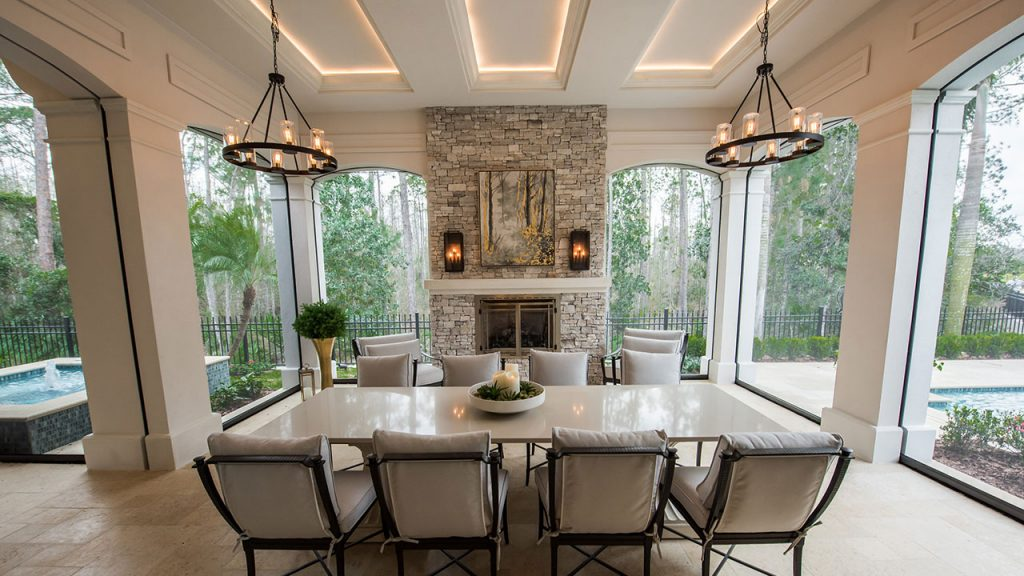 -Berkshire Buff Estate Stone Panels
For homeowners that live in climates with nice weather, consider setting up an outdoor living room complete with fireplace and flat screen TV mount. This two-tone accent wall becomes a focal point for the entire area, with the lighter stone surrounding the fireplace really standing out and grabbing everyone's attention.
6. Large Exterior Wall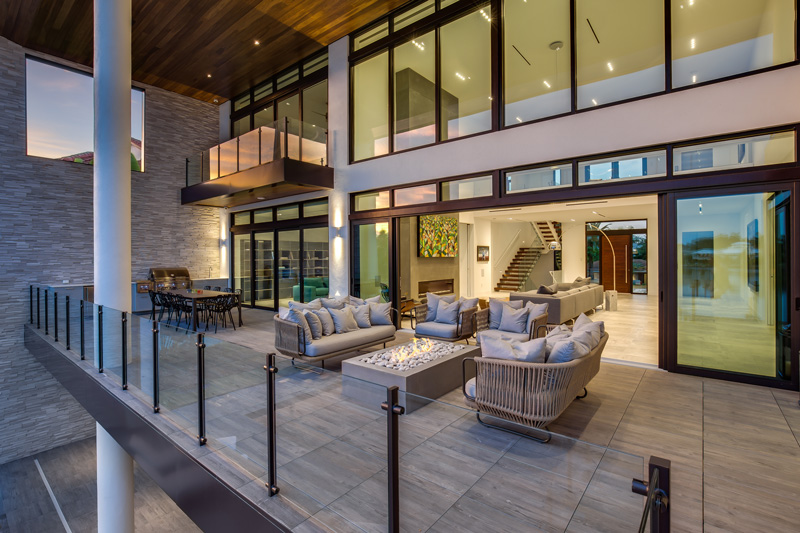 -White Birch Honed Panels
Make a statement with a stone wall. You can bring the feeling of indoors outside with modern looking stone veneer. This sitting area with pillows to carefully match the stone, tie the whole area together for a comfortable entertaining space.
Update Your Landscaping
With exterior stone veneer, you can make any outdoor living area into a stunning display. Consider updating your landscaping to include any of these beautiful features and get the look you're after.