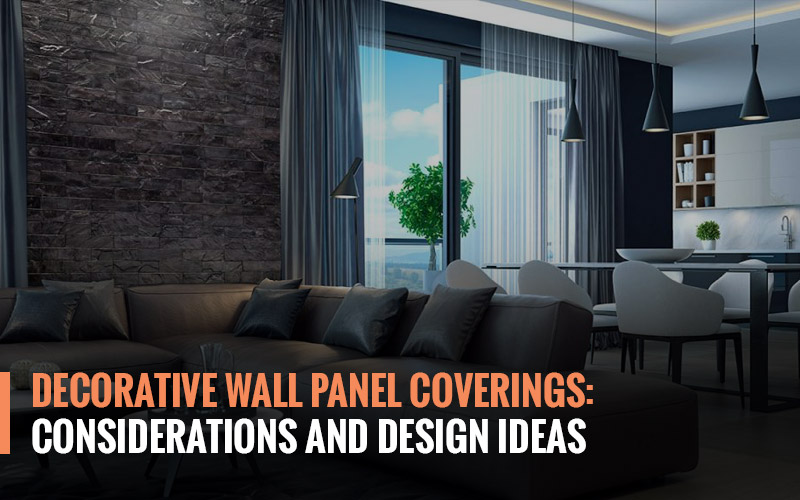 There's nothing like the rich look of real stone tiles. Their natural cleft create  variation and depth that appeal to nearly everyone, as does the fact that no two pieces are ever exactly the same.
When you take natural stone, and cover it in a layer of metallics, pigments, or real leather, you get another layer of depth and beauty altogether. Leather wall tiles and glazed stone tiles have the texture and beauty of real stone, but with a sheen and finish that is unlike anything else you'll see.
If you're looking for the most unique and dynamic way to update the walls of your home, consider glazed or leather wall tiles made of natural stone.
Variation and Blending
Tempered Leather and glazed tiles are made of naturally cleft stone that is covered in vibrant pigments,  a vibrant metallic finish or that have been wrapped in a layer of genuine leather. And like any stone or handmade tile, they will have some degree of variation from tile to tile and from lot to lot. This means that the material you receive may vary slightly from samples, unless you request samples of specific lots. It also means that before installing, you will need to blend the tiles from several boxes at a time to avoid colors clumping up on the walls.
It's that variation in color that helps add depth and richness to the finished installation. So, embrace the blend and ensure an even mixture of color across the walls to get the best results.
Installation and Substrate
While you are putting your leather wall coverings or glazed stone tiles onto existing walls of your home, it's important to keep in mind that drywall is not a suitable substrate for most tile. Drywall is too fragile and thin to support the weight of the glazed or leather wall tiles.
Therefore, always make sure you use a cement board, or tile right over unpainted brick, cement block, or CMU. For these tiles, it is important to use polymer-modified mortar and grout, and install like any tile.
Tempered stone tiles can be arranged and installed in many different patterns, just like regular tiles, so feel free to mix and match, blend, or configure the tiles in any way that complements their setting. A dry layout is always recommended, like with any tile installation, to allow you to blend colors and see the final pattern results before installing on the wall itself.
Applications
The number of ways that you can use tempered glazed or wall tiles in your home is nearly endless. Installed like any tile, they can be used around fireplaces, in kitchens, bedrooms, bathrooms, and living rooms. If you're looking for some specific applications, consider installing them:
As an accent wall across from your front entryway
As wainscoting around the room to chair rail height
On a decorative electric fireplace or above a mantle
Backing floating shelves in an office space
Lining the backs of niches in a living room
Creating a backdrop behind furnishings such as a TV, sofa, or conversation area
As a backdrop behind a freestanding bathtub in the bathroom
Design Ideas
If you're looking for more specific design ideas for your leather wall tiles, the ways that you can use them are nearly endless as well. Take a look at these 13 design ideas to help get you started.
1. Bar Backsplash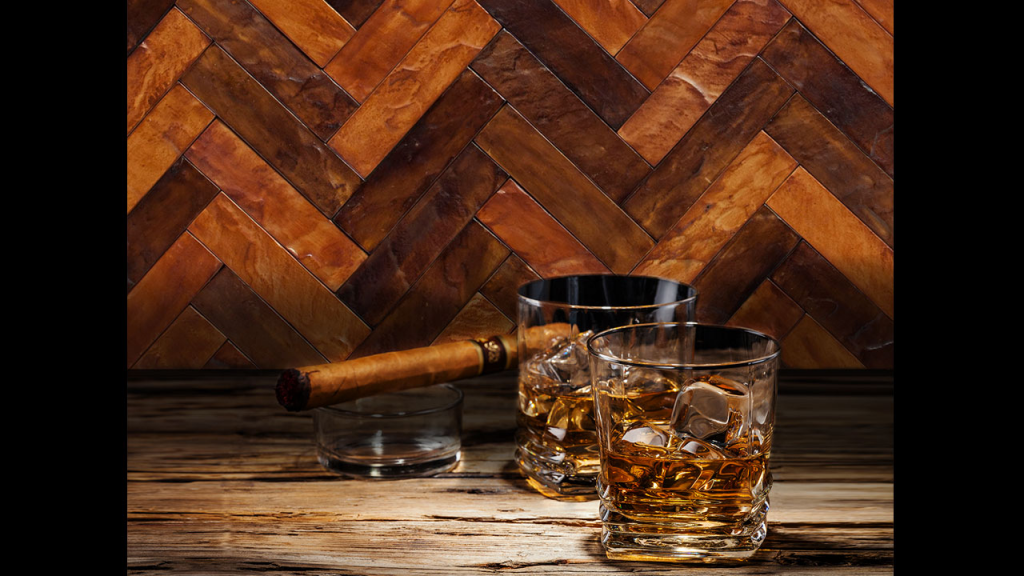 -Leather Tempered Tiles
Enhance your bar area with a backsplash that brings to mind the color of cognac and the rich feel of leather. This corona cigar-colored leather wall tile installed in a herringbone pattern adds a lot of richness and depth to the backsplash, complementing the color of the bar itself, as well as the drinks that you'll mix there.
2. Inset Wall Panel
-Tempered Corona Tiles
Make a statement in your dining room by creating an accent wall that's inlaid slightly for maximum impact. These leather tiles are installed in a long plank herringbone for slightly less variation. The natural cleft of the stone helps bring out even more of the color variation in the tiles, creating a visually stunning effect.
3. An Accent Wall
-Tempered Pyrite Tiles
Get the classic look of a brick wall, but with a more updated and sophisticated look with glazed tiles instead. Installed in a classic running bond pattern, these rich, dark-colored tiles have a sleek and contemporary look that enhances this hotel lobby. Consider using something similar in an entryway or as a backdrop to a cozy conversation area as well.
4. An Industrial Vibe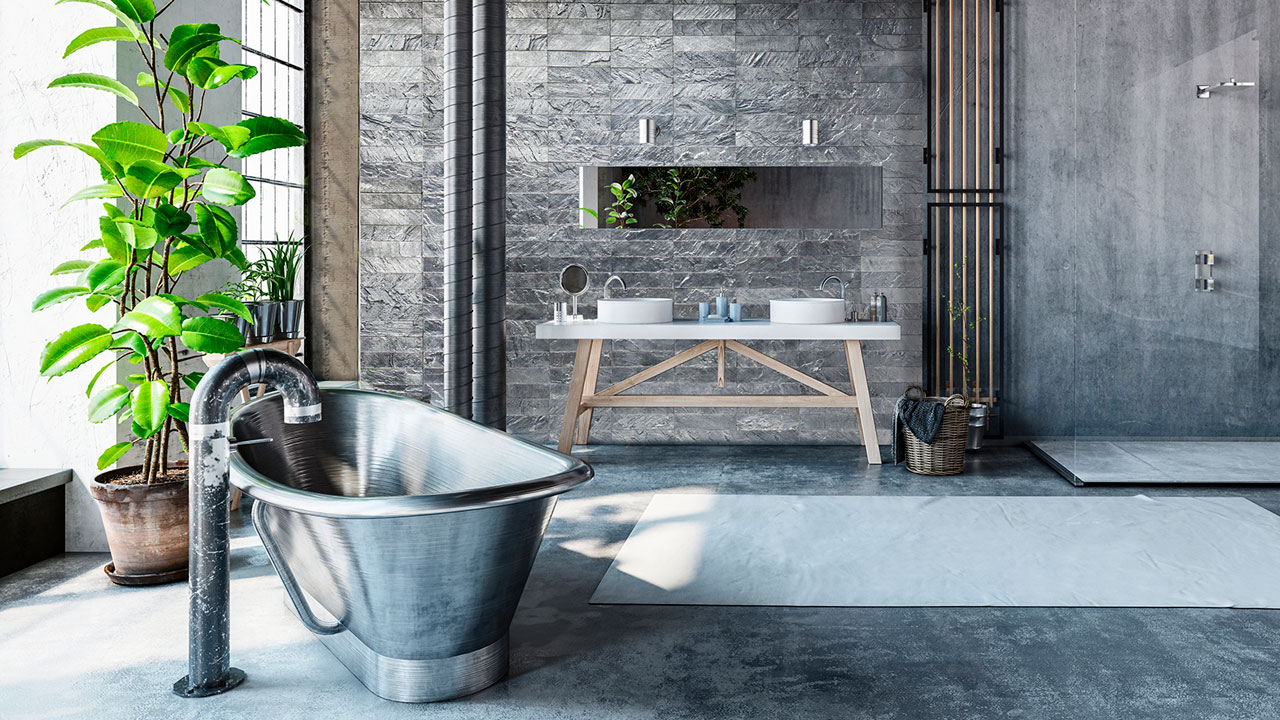 -Tempered Gunmetal Tiles
With the industrial tub filler and aluminum-finished freestanding tub, this contemporary bathroom needs a wall finish to match. These gunmetal gray, metallic glazed tiles are the perfect complement, adding a lot of texture and sheen that plays off the concrete floors and picks up the color of the tub, while still managing to catch and hold the eye.
5. Ruby Red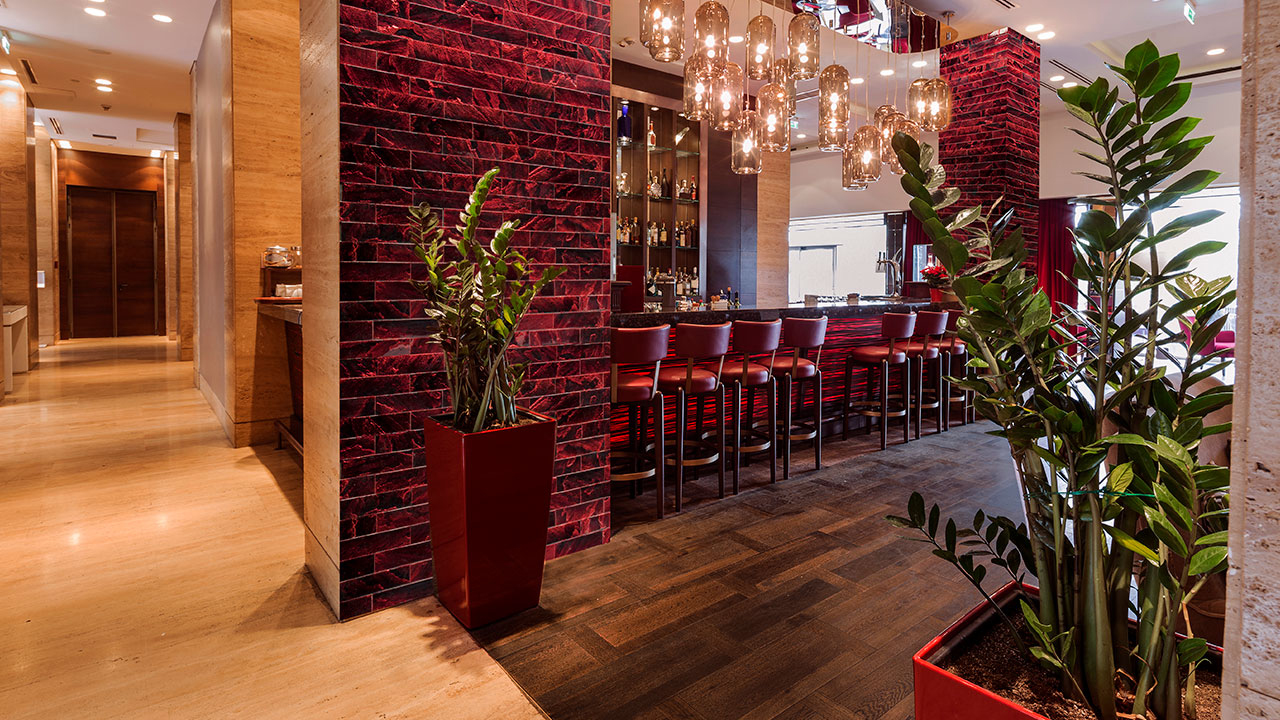 -Tempered Ruby Tiles
Metallic tempered stone tiles come in many shades, but none are quiet as dramatic as this rich ruby red. Used as an accent any in room, these glazed stone tiles are sure to catch and draw the eye. Used here as a frame for the bar, they help to create a focal point in the room, drawing in eyes and patrons. Trending at this seasons Interior design shows, Ruby can be bold or classic depending on the design.
6. Textured Walls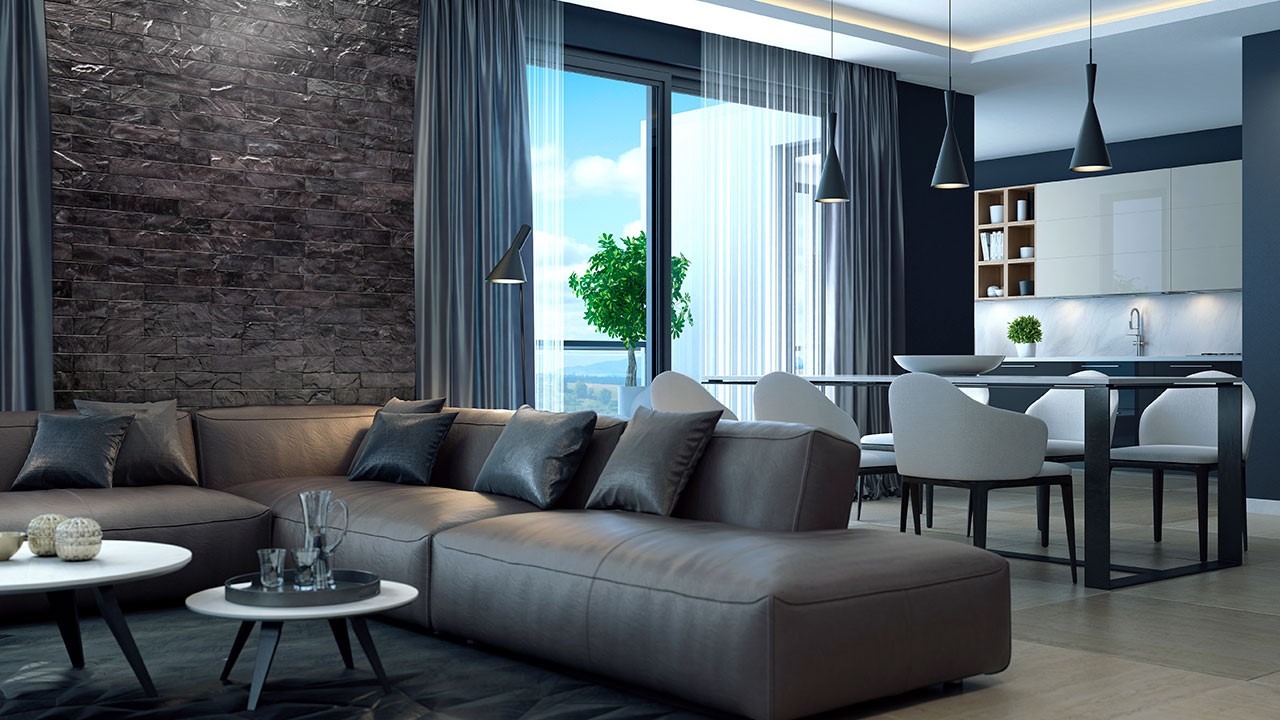 -Tempered Toro Leather Tiles
Most people simply use color when creating an accent wall, but in this living room, with the plate glass window as a strong light source, the texture of the stone can easily be used as an additional design component. The texture and sheen created by the leather wall tiles help to bring subtle contrast and a touchable texture in a way that color alone just couldn't do.
7. Subtle Surround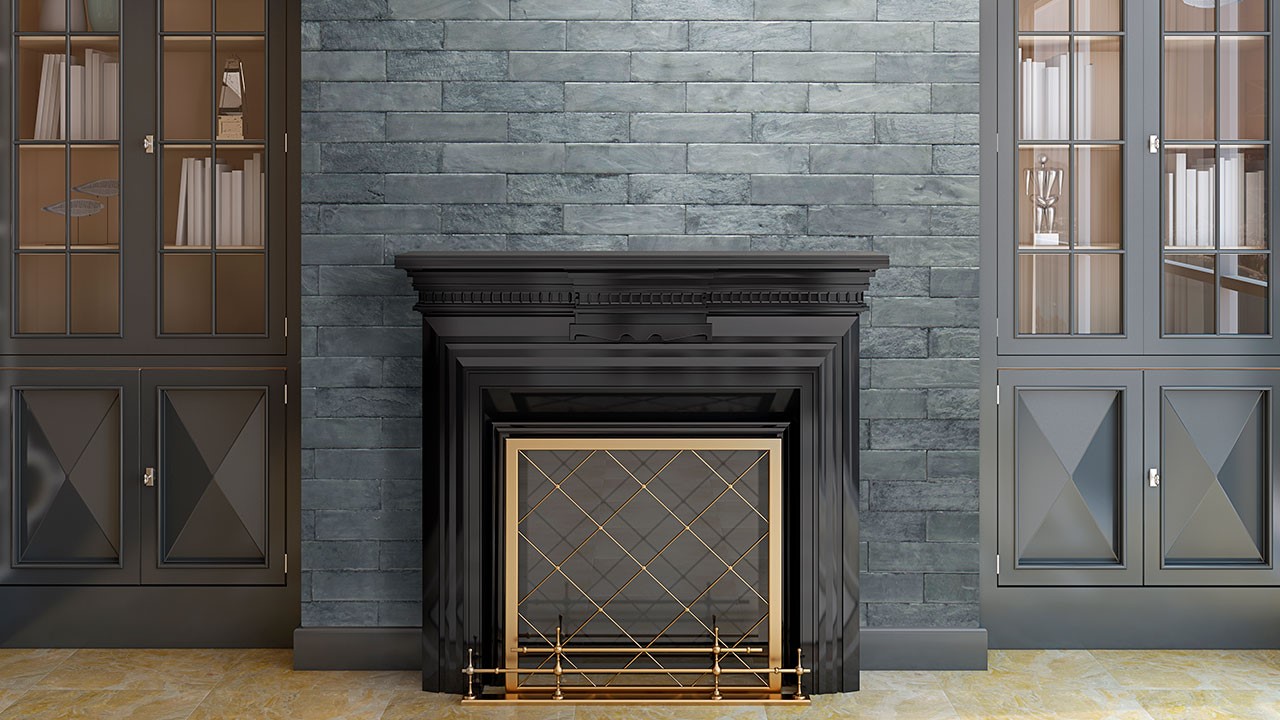 -Tempered Fog Tiles
Fireplace surrounds can be dramatic or subtle depending on the effect you're trying to create. This quiet surround uses glazed slate tiles with a subtle amount of variation in color and a lot of cleft texture. The end result is a surround that quietly complements the room, without calling a lot of attention to the area. Although Tempered tiles should not be used in direct contact with heat, an electric or low heat emitting fireplace insert is acceptable as is an installation above a mantle where there is little heat.
8. Bold Pool Blue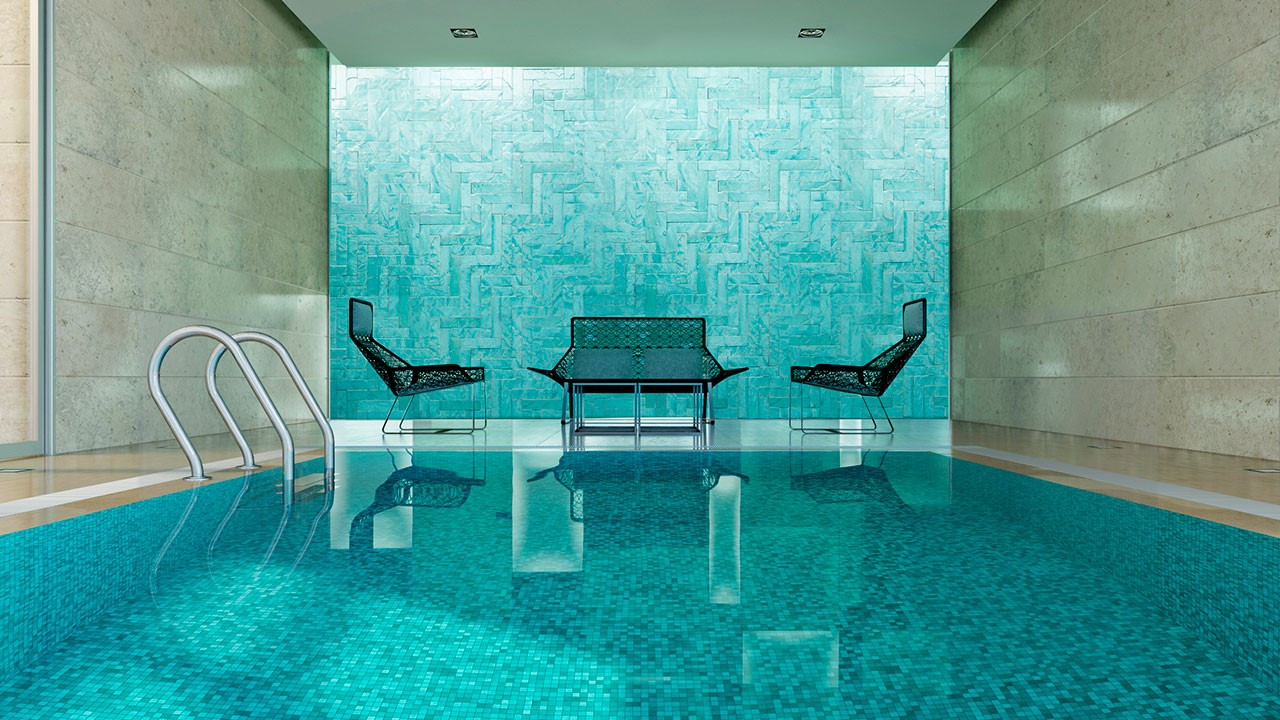 -Tempered Marine Tiles
What better way to accent an indoor swimming pool than with a wall of tempered tiles in a similar, cool-toned colors? This wall of glazed sandstone tiles is installed in a classic herringbone pattern, but the color and placement of anything but ordinary. If you're looking for a way to create a truly eye-catching accent anywhere, this is the color and tile for you.
9. Subtle Seafoam Slate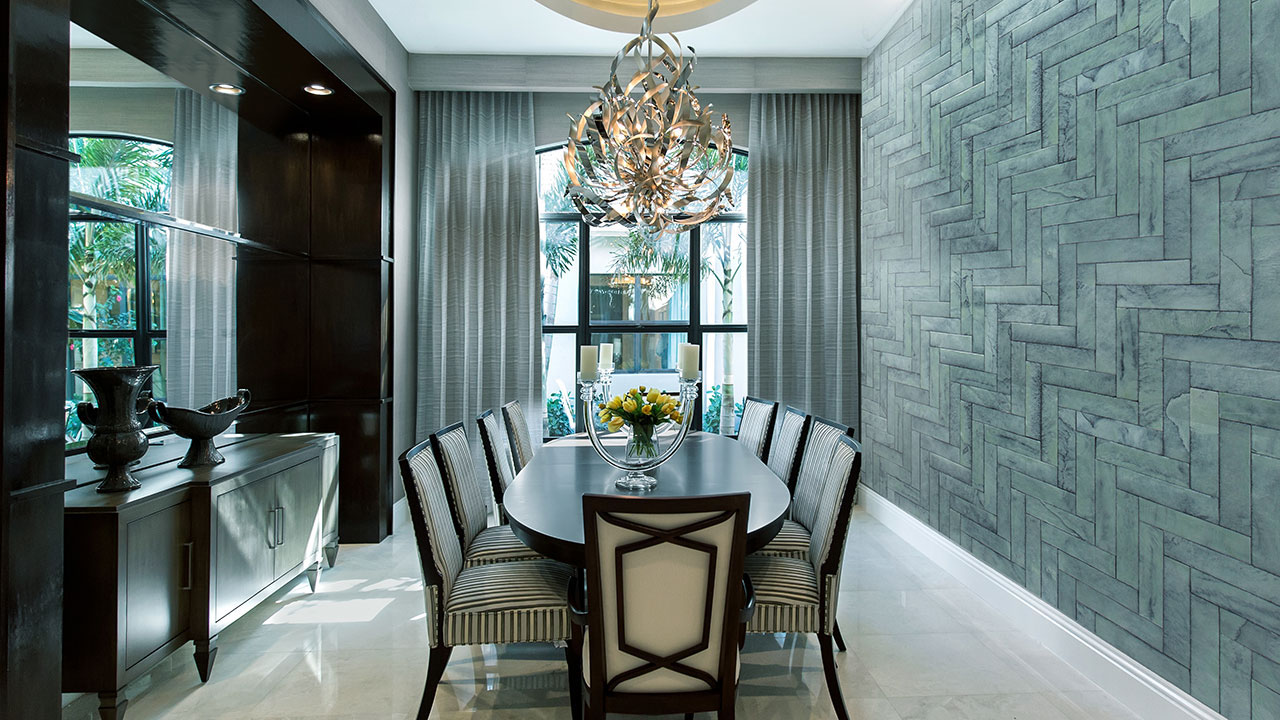 -Tempered Seafoam Tiles
Many people overlook the dining room when it comes to adding an accent wall of some kind, but this is actually the perfect place to do so. Too much artwork can be distracting from meals, while plain white walls can tend toward boring. This interesting accent walls uses glazed slate tiles in a rich seafoam color. The variation in color, sheen, and texture almost makes the wall feel as though it's being washed up piece by piece by the ocean.
10. Monochromatic Living Room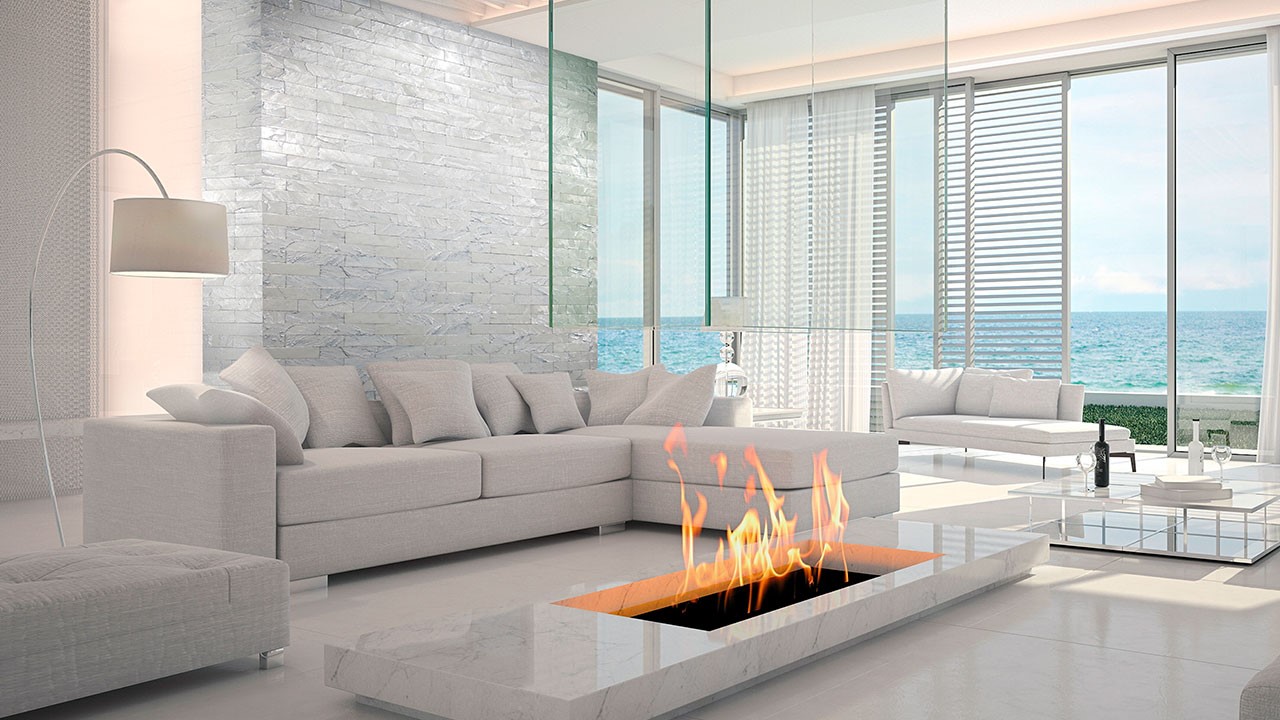 -Tempered Stardust Tiles
Using a single color, like white, throughout a room is a great way to create a clean, modern design. But unless you introduce a lot of texture into the space, that monochromatic look can get very plain very quickly.
This living room uses a white, glazed stone wall tile in a classic running bond pattern as an accent. The texture of the tiles helps call to mind classic brick and stone walls, but in a fresh color and luminescent finish that complements the modern vibe of the room.
11. Vertical Accent Wall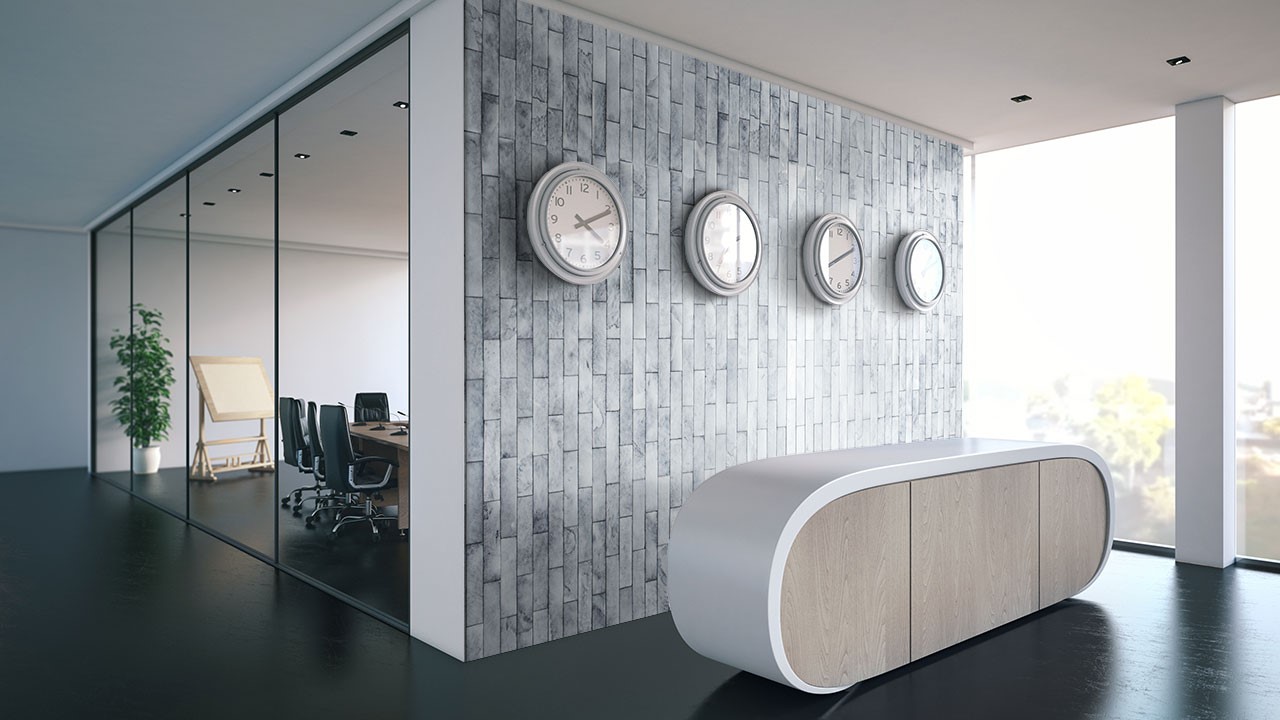 -Tempered Fog Tiles
Subway tiles don't have to be installed in a classic, horizontal running bond pattern. An easy way to add excitement and drama, is a simple change like a vertical installation, shown in this office foyer. The rich color and subtle variation of these glazed stone tiles helps to draw the eye upward, complementing the pattern of the tiles and visually lifting the ceiling of the lobby to new heights.
12. Bed Backdrop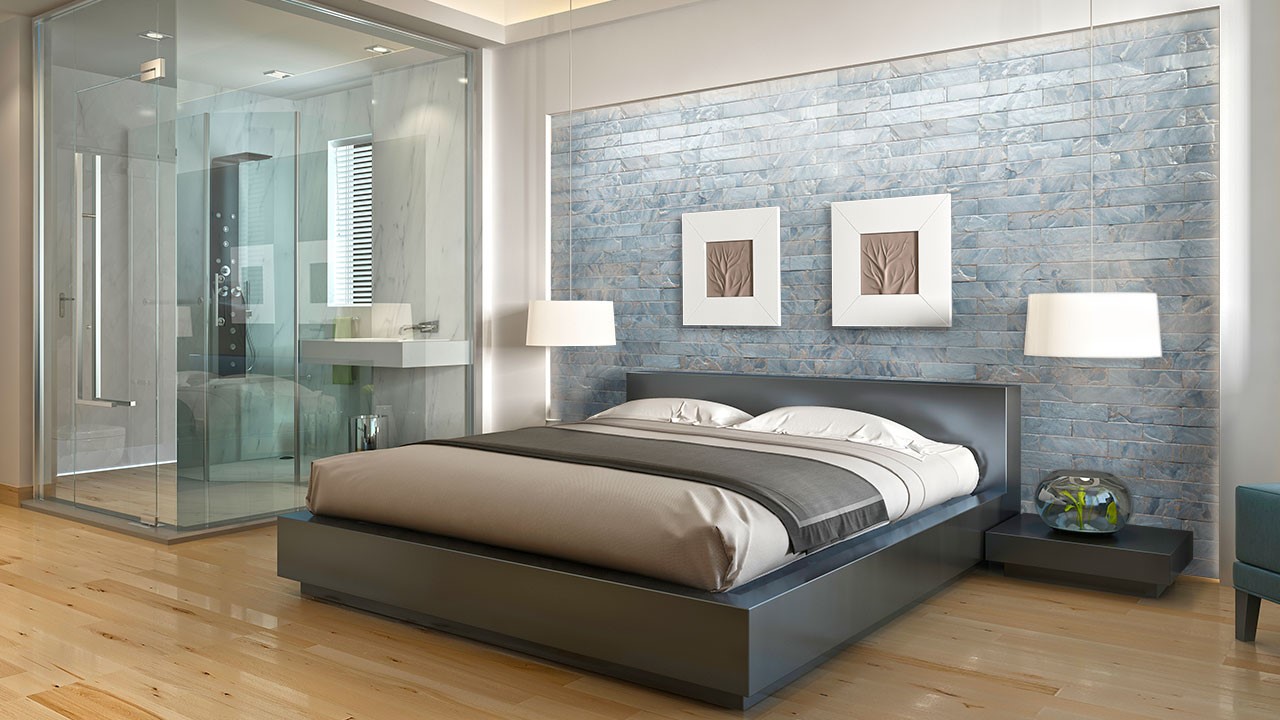 -Tempered Blue Opal Tiles
Whether your bed currently has a headboard or not, using an accent wall just behind it is a great way to create a focal point and bring additional interest to the room. This Blue Opal tile wall adds some dreamy color, pattern, and texture to the space, right where it needs it most. The soft finish of the tiles is the perfect complement to the room's purpose, creating a softer look than most tile walls.
13. Bathroom Focal Point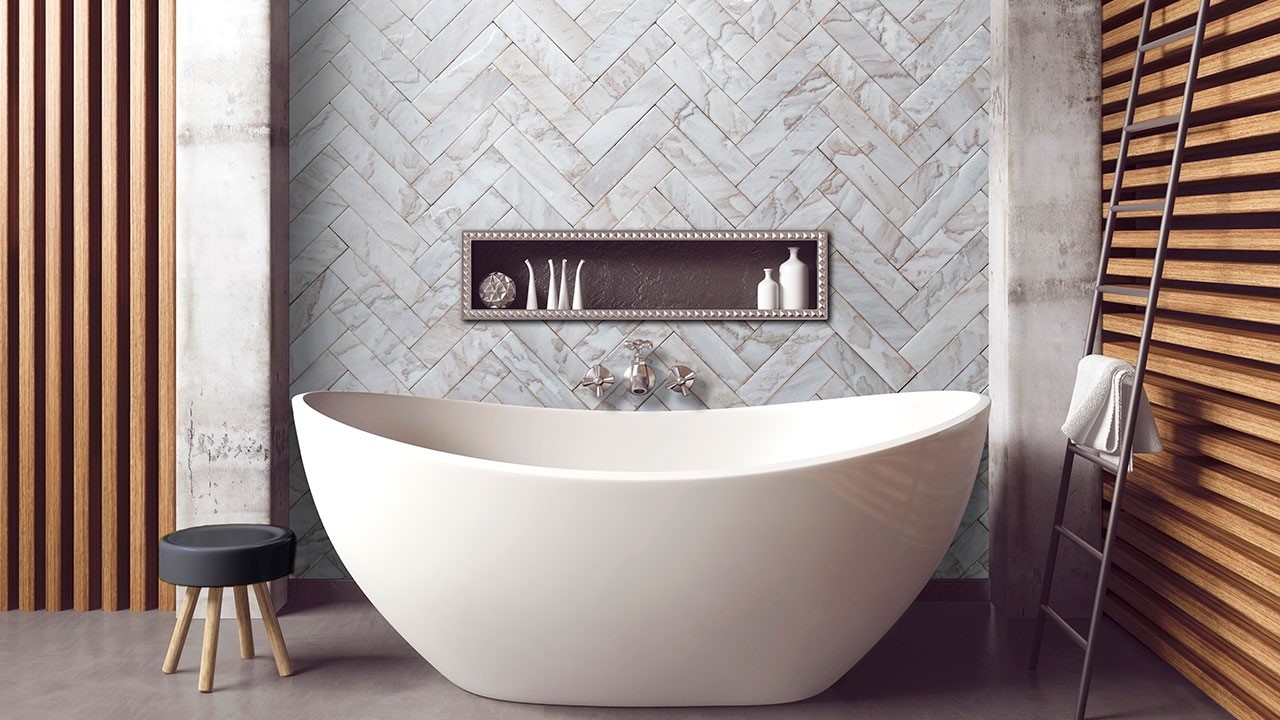 -Tempered Snow Drift Tiles
When using a freestanding tub in the bathroom, it's sometimes helpful to create an accent wall behind it to complete the focal point in the room. This soft, white glazed sandstone tile makes an ideal accent behind the standalone tub, protecting the wall, while adding a hint of color, texture, and depth at the same time.
Elevate the Look of Your Stone
If you love the look and texture of real stone, take a look at tempered stone tiles finished with bold glazes, metallic pigments, and real leather. Versatile, easy to install, and exceptionally durable, these tiles can be used anywhere in or around the office. Use them as an accent, a backdrop, or to create something entirely new to bring the richness of stone into your life.