Interested in purchasing reclaimed wood wall panels? Order samples of our Multi Panel or Dark Panel reclaimed wood products.
Wood wall panels have been gracing the interiors of homes for more than a century. The rich, warm look of wood can instantly transform any space, giving it interest and dimension as well as style.
While wood is a sustainable product, though, many homeowners like the idea of using reclaimed wood, rather than new material as a way to make better, more eco-friendly choices for their homes. For this reason, many companies are now making reclaimed wood products using wood taken from barns, floors, packing and shipping material, and other areas where the character of the wood shows some of its previous use. Wall panels made of reclaimed wood have all the beauty that you've come to expect from wood, but with personality and dimension that can only come from a material that's had a life before. If you're thinking about using reclaimed wood in your home, make sure you weigh these considerations and design ideas before you get started.
Variation
Any time you use reclaimed materials, you need to be prepared for a certain amount of variation in the product. While a new material can be more easily controlled for things like texture, grain, and color, reclaimed materials have a personality and distinct appearance already, before they are remade into the new item.
Therefore, when choosing to use a reclaimed wall panel in your home, you need to consider the fact that there will be more variation in color and texture from what you may be expecting. This is true even if you view samples of the material first. Some pieces of reclaimed wood may also show things like nail holes or cracks from their previous use as well; this is part of what makes the material so attractive, and cannot be considered a flaw. Keep in mind as you plan your project, however, that it may not always look exactly the way you envision from photographs or samples.
Wall Condition
People add wall panels to their interiors for a variety of reasons, one of which is to help hide flaws or imperfections in an existing wall. And while wall panels can help disguise a lot of problems, make sure that your walls are at least structurally sound before attempting to add additional weight to them. In order for the wall panels to attach securely, your walls need to be level, without any bowing or warping of the surface. The condition of the current walls should also be firm, with no signs of wood rot or water damage.
The wall panels themselves should be attached to the studs behind your drywall or plaster, particularly if you are using a panel constructed in one piece. However, some reclaimed wood wall panels can be pieced together of many, smaller pieces that attach directly to the surface of the wall itself, rather than penetrate through to the studs behind. If this is the case, make sure that the wall is clean, dry, and is not currently peeling or flaking, as this can result in the wood not adhering properly.
Applications
Once upon a time, wall panels were considered a type of wainscoting – to be used as a chair rail or protection for the wall, and nothing else. Today, wall panels are often used to help add interest and detail to a room, and panels made of reclaimed wood are no different.
It's possible to create several different looks for your home by using reclaimed wood wall panels in various applications. These may include:
Creating an accent wall opposite the main entryway into a room as a way to draw the eye and complete the style of the space

Creating a backdrop for furniture such as a couch in the living room or a bed in the place of a headboard

Backing for shelves in an office space; floating shelves can be installed in front of the reclaimed wood to create a unique and innovative storage area that also has a lot of personality

Used as a typical wainscot, run around the perimeter of the room to protect the walls

Lining the back of a mudroom wall where coats and outer things are hung to add warmth to the space

Using the panels as a unique backsplash in the kitchen area, in place of tile

Creating a fireplace surround, extending the panels to the height of the ceiling for visual interest
Design Ideas
If you need some inspiration in how to use reclaimed wood wall panels in your own home, consider these design ideas. Reclaimed wood can be used to create a variety of rustic modern styles in all areas of your home; these seven designs can help give you an idea of just what may be possible in your home.
1. Reclaimed Wood Accent Wall Behind Bed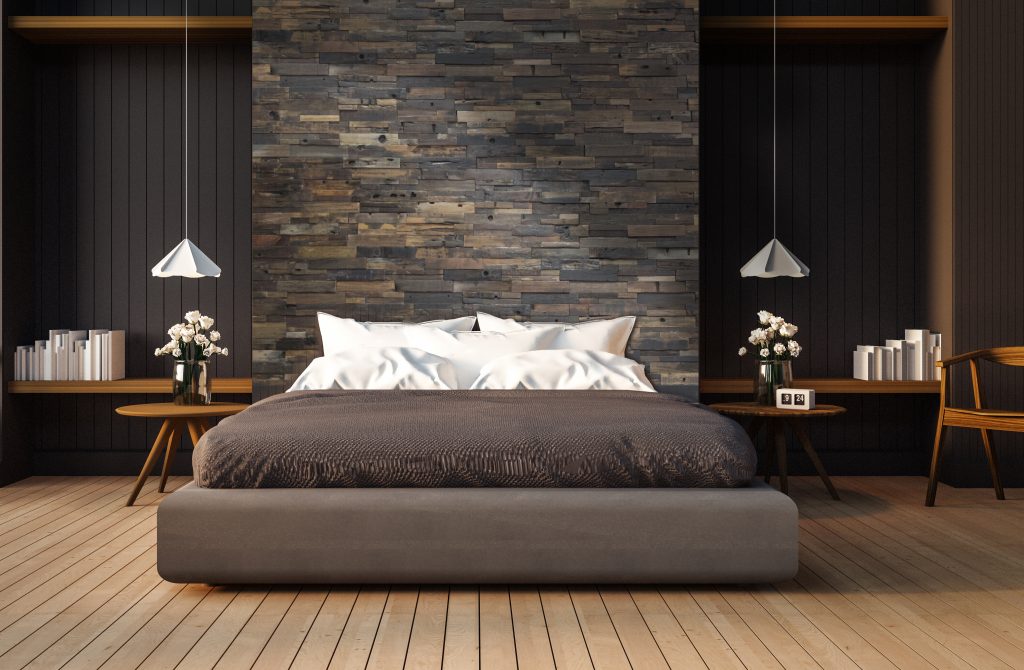 If your bed doesn't have a headboard, consider framing out the wall behind it using reclaimed wood. By running the wood to the ceiling, and extending it just past the bed on either side, you can bring focus and added dimension to this area of the room. To set the reclaimed wood apart even more, consider framing out the rest of the walls in a contrasting color or material, so that the wall panel stands out on its own, creating more of an illusion that this is a headboard, and not simply an accent wall.
2. Decorative Reclaimed Wood Living Room Backdrop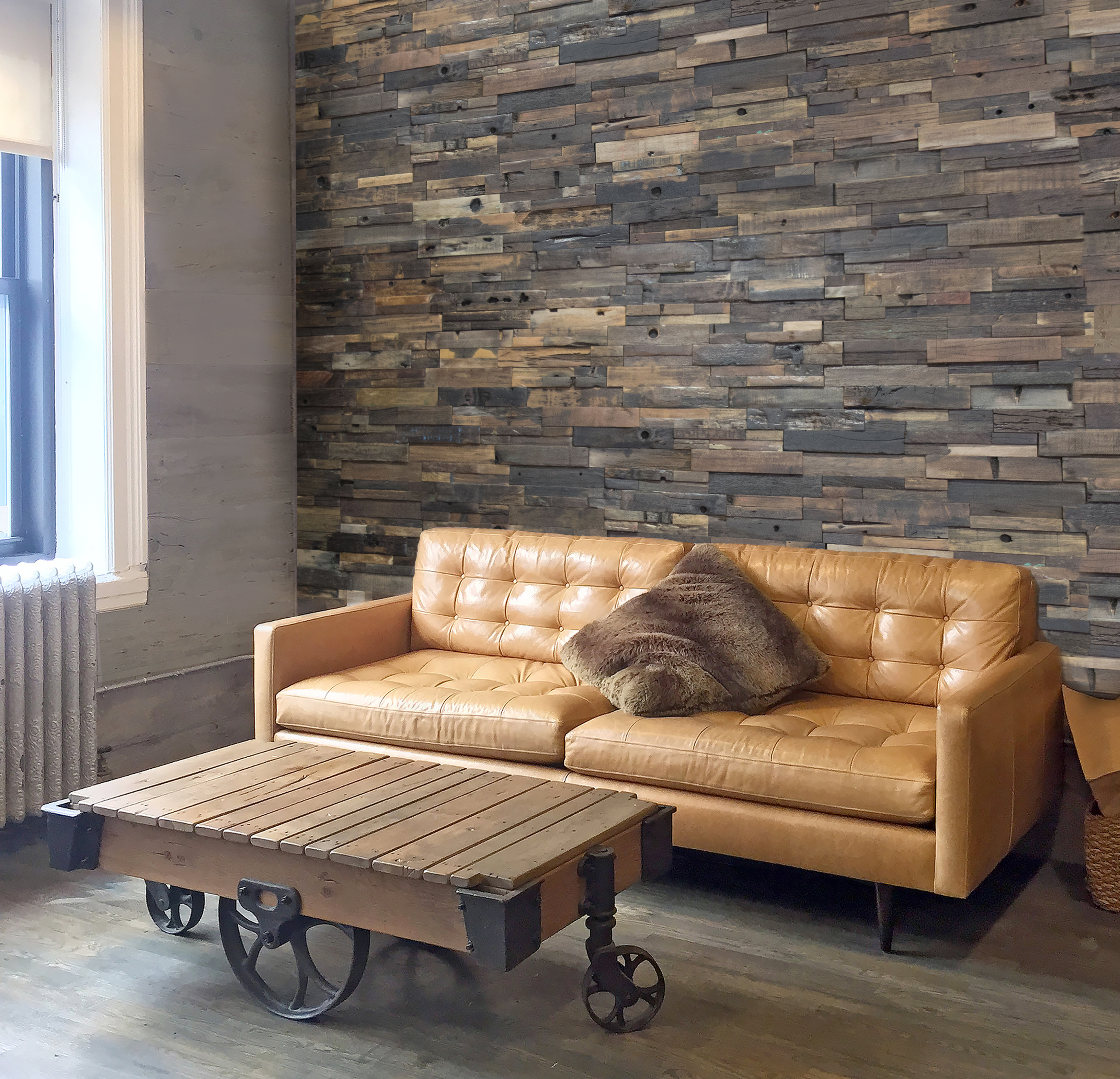 Rather than simply hanging some typical framed art behind your sofa, create a different kind of statement by using reclaimed wood wall panels as a backdrop. Accent walls typically get placed where they can be viewed as soon as you enter the space, but that isn't always the best location for them.
By positioning them behind the furniture in a room, you can create a more interesting backdrop for your furnishings, which in turn sets them off and makes them the focus, rather than the accent.
3. Office Statement Reclaimed Wood Wall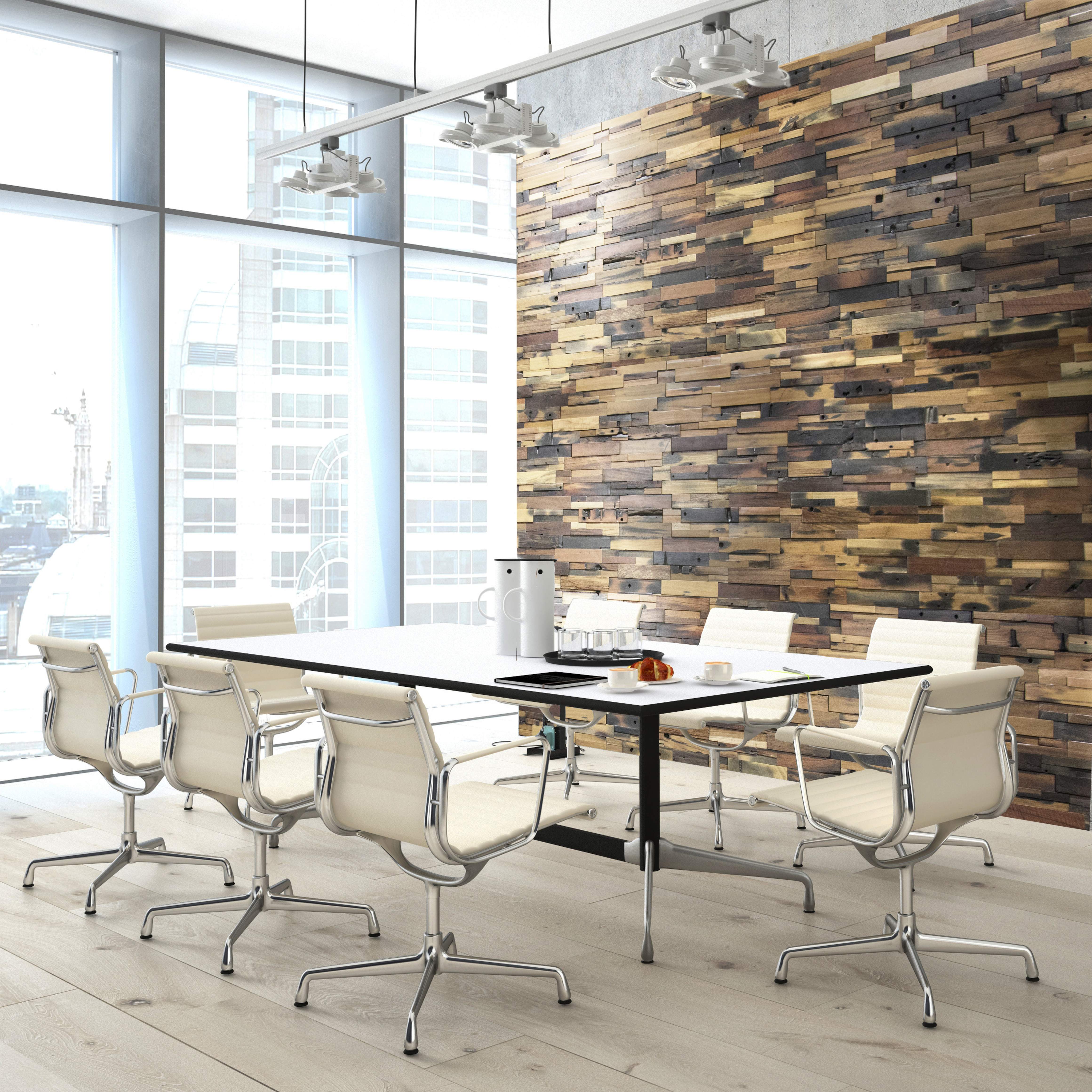 Boardrooms are well known for having some innovative and provoking wall appearances. When creating an office or boardroom, the idea is to capture the attention of visitors, while at the same time saying something about your particular brand. Decorative wood wall panels can make a very bold and interesting statement at once. They're eco-friendly, made of essentially recycled material, which can suggest your company is forward thinking and aware. Yet at the same time, juxtaposed against plate glass, and extended to the ceiling, the panels also make a powerful statement of depth and gravity that can be beneficial when dealing with clients.
4. Dimension in Small Spaces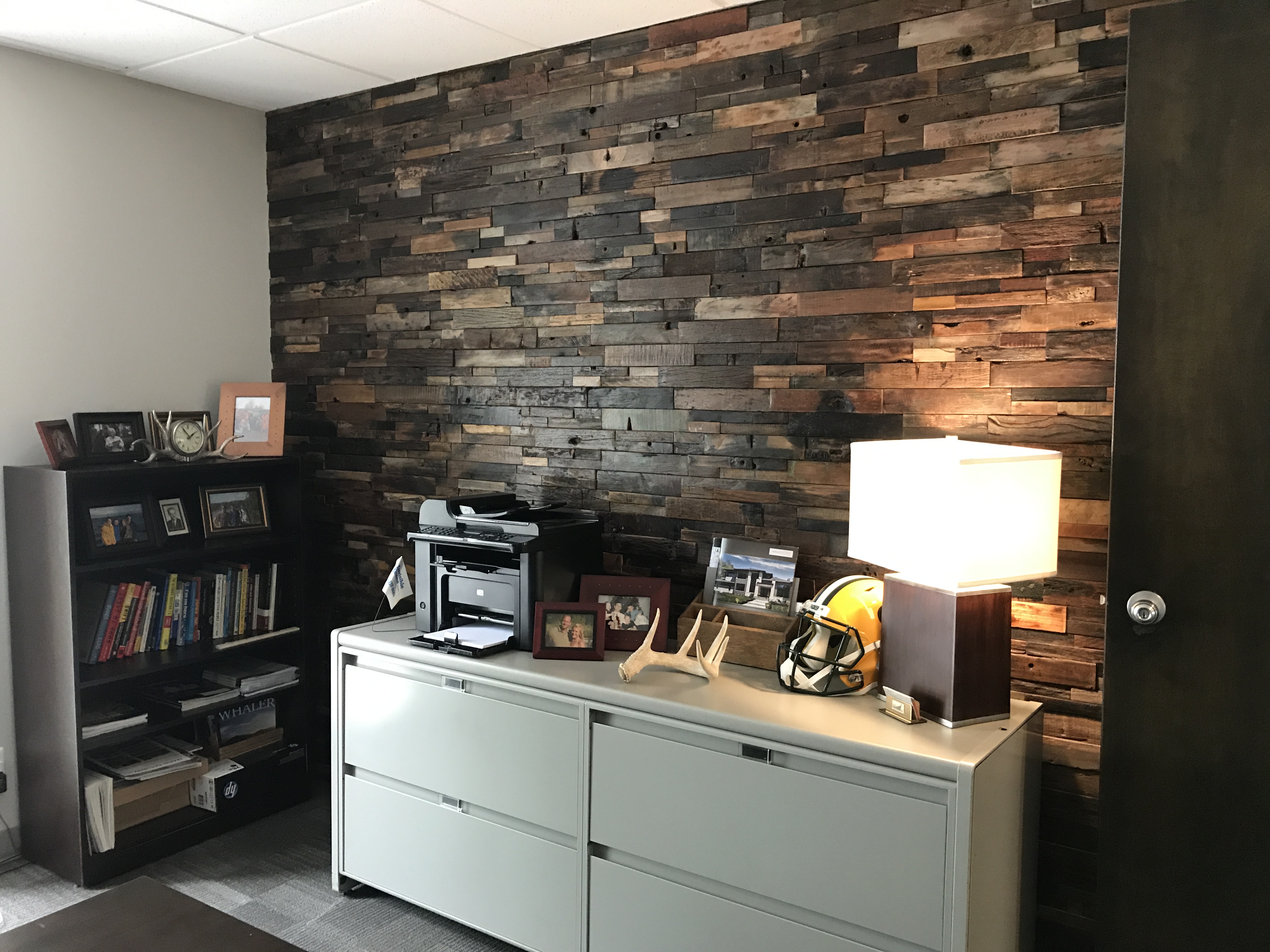 Large, open areas aren't the only places that can benefit from the addition of a wall panel. Small spaces can find them equally effective interior designs as well. In a small room, pattern and texture can make a space actually appear larger than it really is, while having too many disparate items on the walls can make it feel cluttered and smaller.
By using a wall panel behind furnishings in a small space, you add that detail that can open it up visually, creating a more interesting area and a more appealing façade.
5. Reclaimed Wood Panel Headboard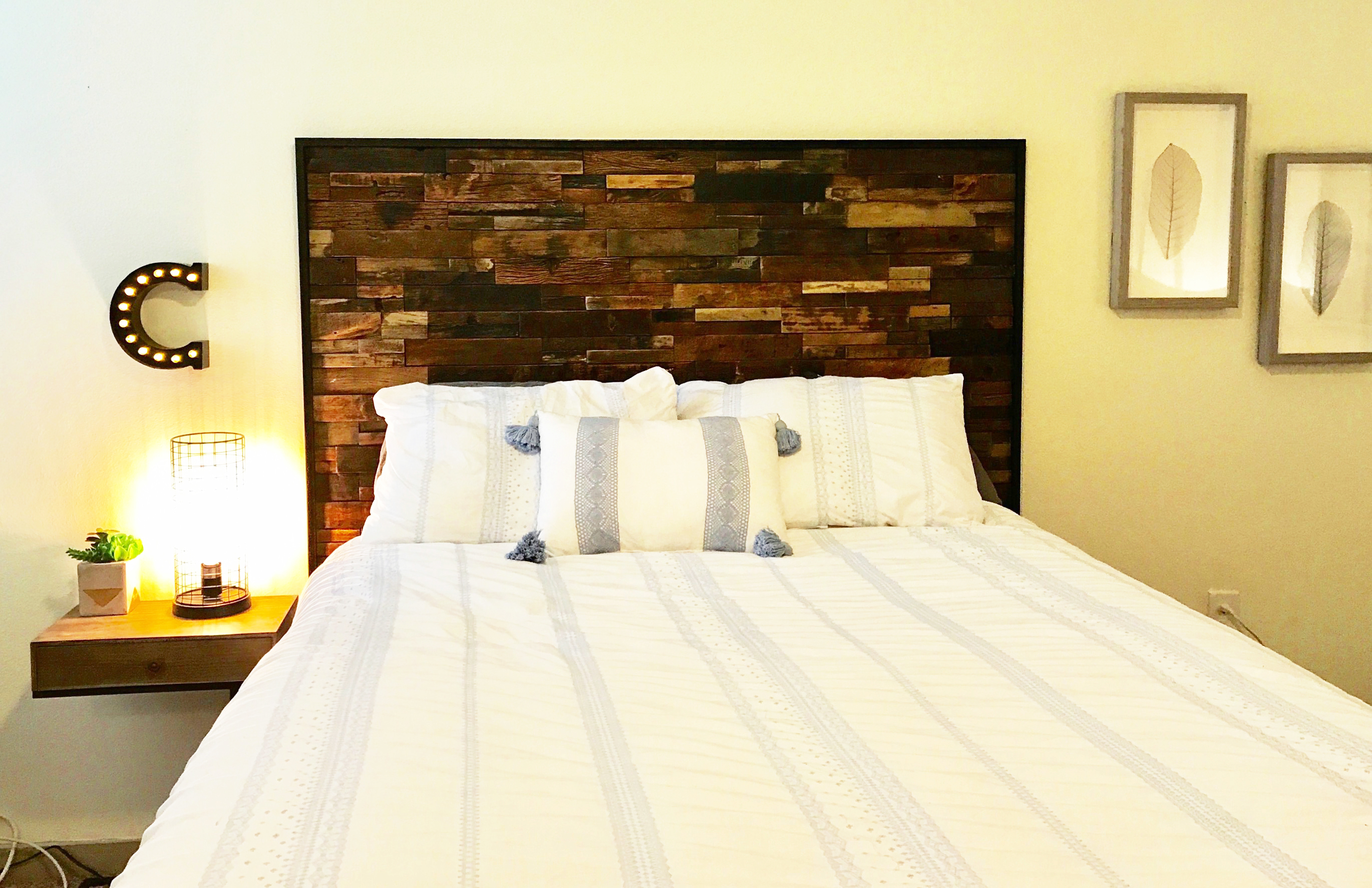 If you don't want to cover an entire wall with reclaimed wood, you can still use it to create a small, focused accent instead. In this case, a headboard was created using a reclaimed wood wall panel. Small enough to just frame out the bed, without taking over the entire wall, the panel helps define the space, and attracts the eye more efficiently than the bed would by itself.
6. 
Conference Room Statement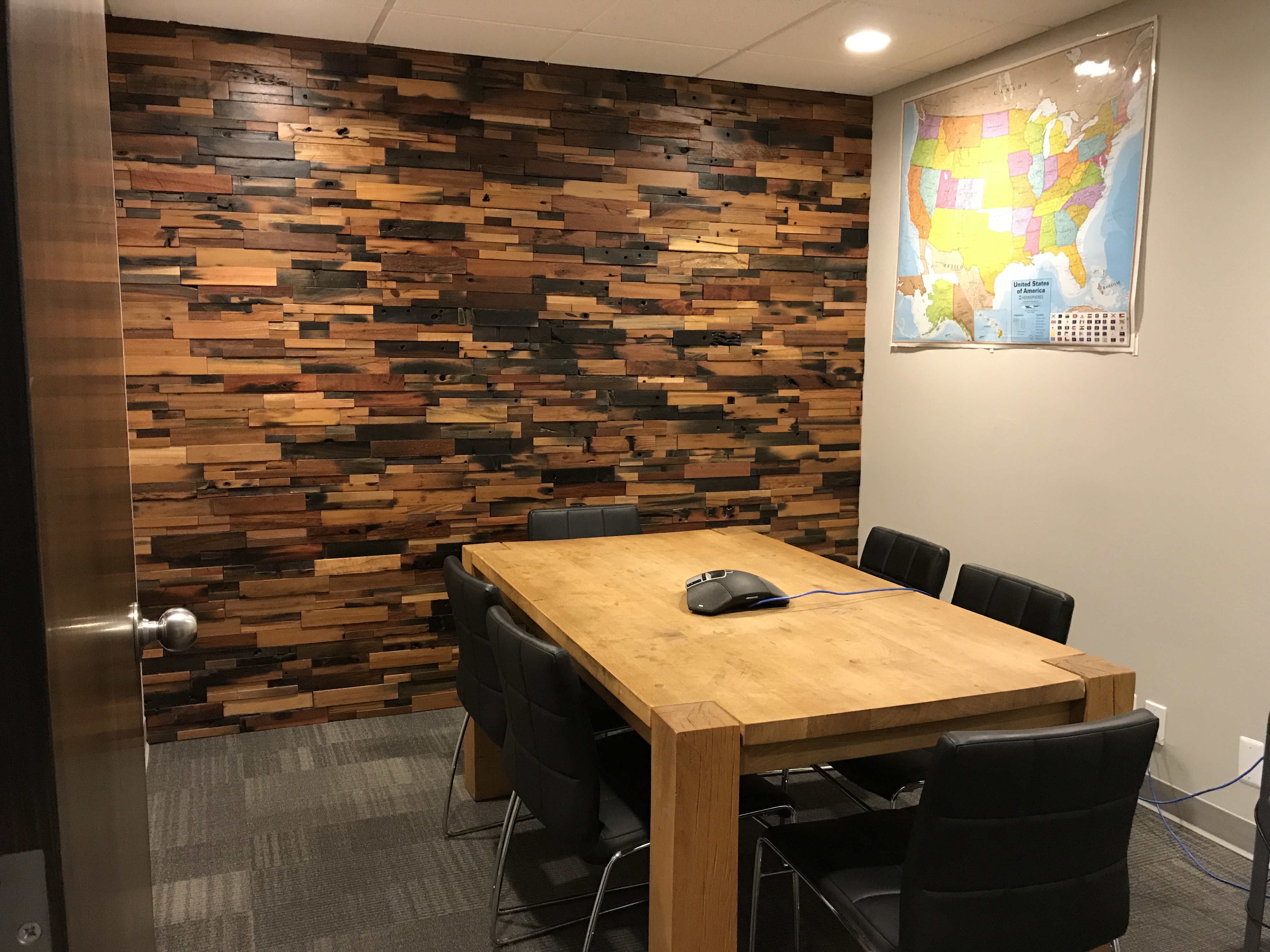 Small conference rooms that don't have a lot going on, can find a lot of benefits in the addition of a reclaimed wood accent wall. Conference rooms like this one don't have a lot of furnishings, or a commanding view. So, the room itself ends up looking too plain or utilitarian. Reclaimed wood with its many colors and textures mixed together, adds something to look at for occupants, which in turn boosts the room's appeal as a whole.
7. Vertical Appeal Reclaimed Wood Planks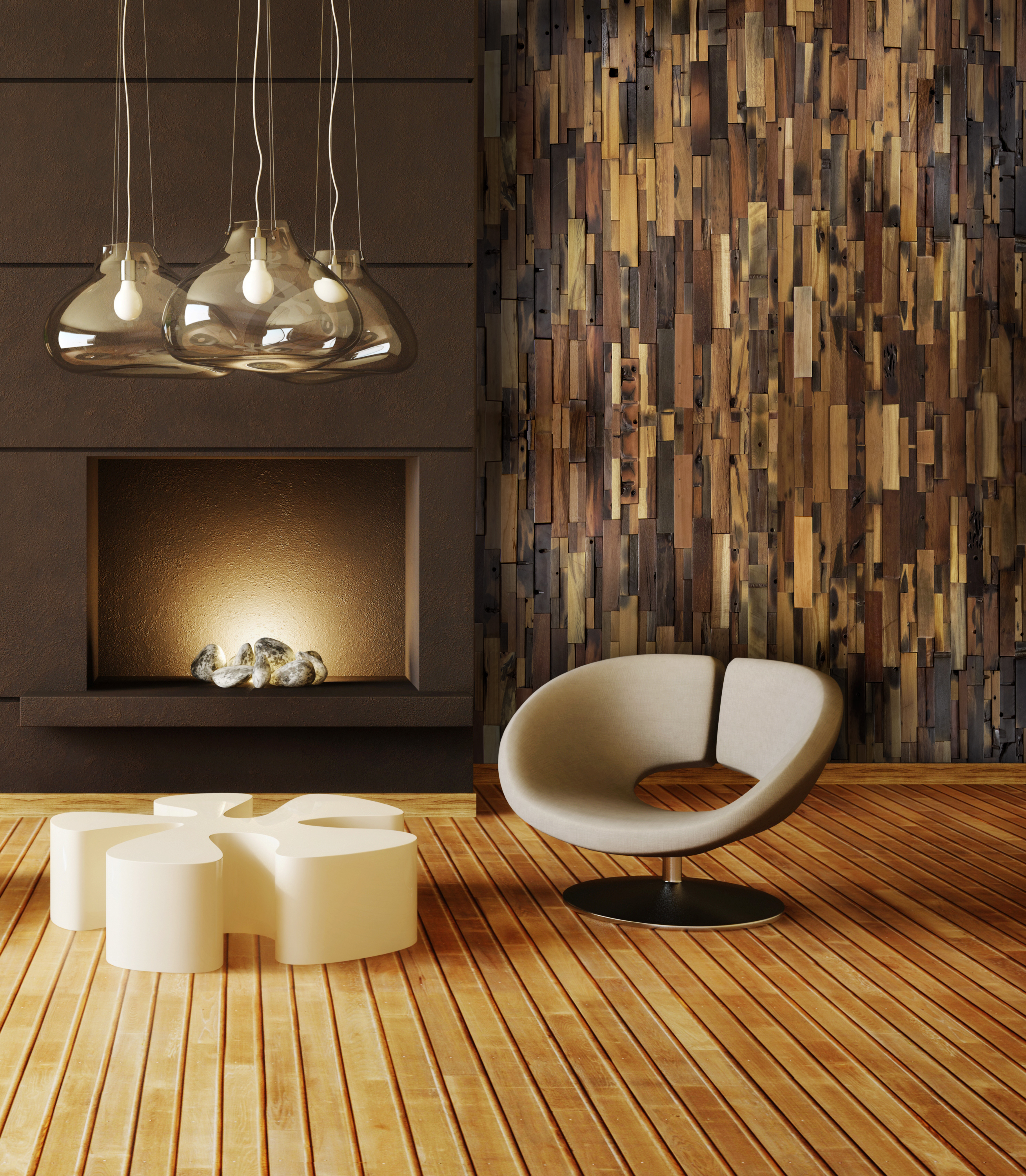 Create the illusion of a height in a room by positioning the panels so the planks run vertically, rather than horizontally. The eye automatically follows the direction that lines are moving in, so panels set vertically will pull the eye upward, which in turn emphasizes the height of a space. Used as an accent in a room with other design features, vertical positioning like this helps set the panel apart, giving it more attention.
Add to Your Home or Business
Reclaimed Wood Wall Panels by Realstone Systems are beautiful, decorative, and full of character and personality lacking in other materials. Add them to any room that needs a boost in visual appeal to gain these benefits for yourself.