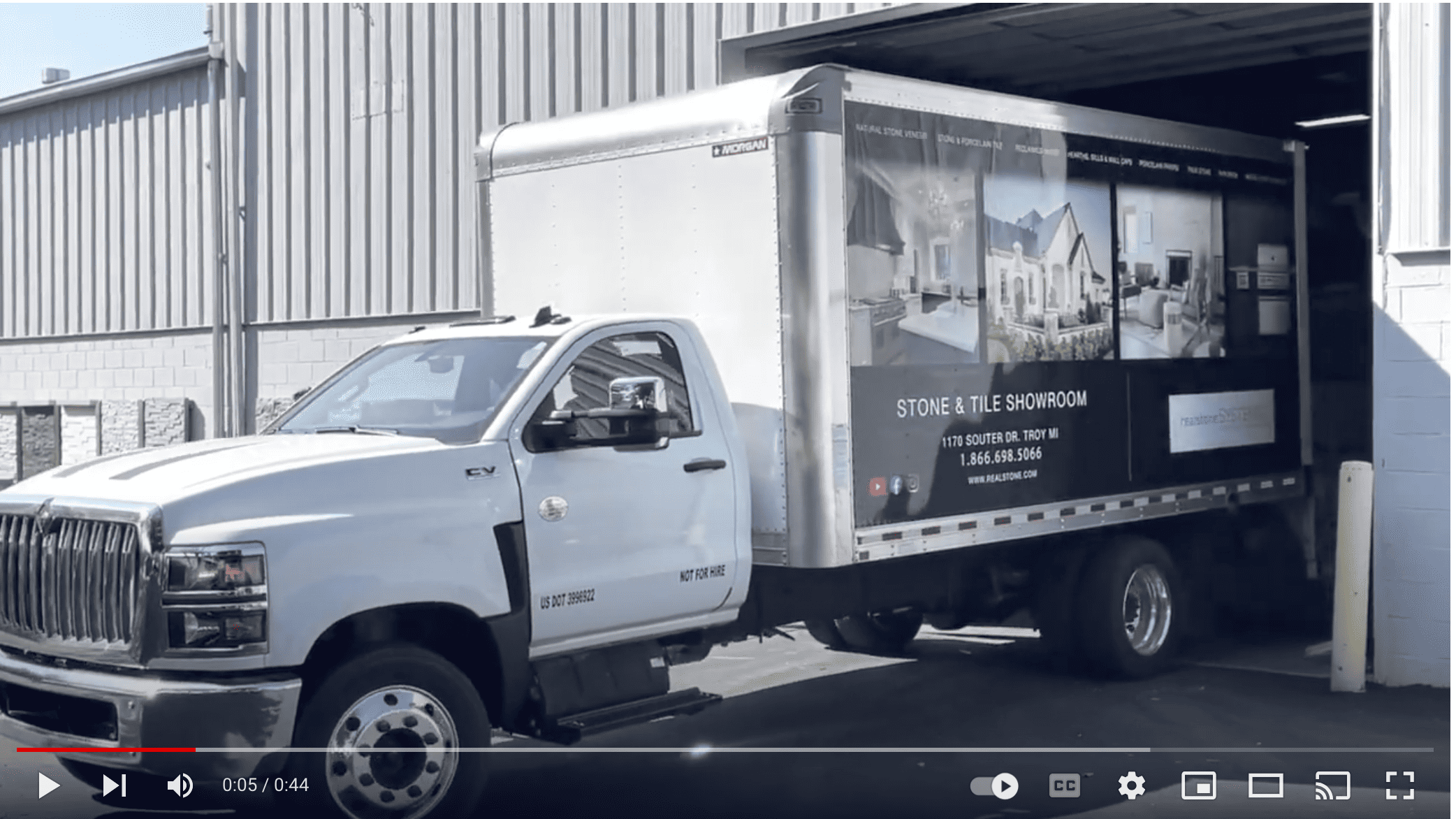 At Realstone Systems, Customer service is one of our core values. We listen to our customers' needs and provide solutions anytime we are able. Based on customer feedback we are now offering delivery from our Troy Michigan showroom to areas within our 60-mile radius. Call us 248-614-6613 to learn more and schedule a delivery. Or contact at us  
Along with local delivery Realstone offers many products and features that can bring your project to life quickly, efficiently and beautifully. One of our customer favorite projects is Fireplaces. When it comes to homey comforts in the chilly Southeast Michigan climate, fireplaces take center stage. But what elevates a fireplace from practical to magical? It's all in the stone and tile details. Stick around, we're diving into everything you need to know! 
The Allure of Stone and Tile Fireplaces
Both stone and tile bring a unique set of charms to your fireplace. Let's unpack some trending ideas. 
From rustic stone fireplaces to white stone mantels, the stone ideas are endless and always stylish. 
Realstone Systems 
Offering a plethora of options, Realstone Systems should be your go-to for quality stones. 
Varieties of Stone and Tile 
Navigating the myriad choices? We've got you covered. 
The elegant, modern, yet durable choice for any fireplace. 
Going for aesthetics without the weight? Faux stone is your friend. 
Fireplace Tiles
For those who want a splash of artistry, fireplace tiles offer endless designs. 
Crafting the Ideal Fireplace
The devil is in the details—or in this case, the beauty. 
Stone and Tile Surrounds
Create a stunning focal point with a mix of stone and tile surrounds. 
Adding hearth stones or tiles gives that extra oomph of coziness and style. 
Aesthetic Choices: Modern vs Rustic
Contemporary sleekness or countryside charm? Your call. 
Multi-Functional Designs 
Who said fireplaces are only for show? 
Combine the convenience of electric fireplaces with the beauty of stone and tile. 
From family photos to holiday decorations, your mantel deserves some love too. 
Revamping Existing Fireplaces
A little change never hurt anybody, especially when it comes to fireplaces. 
Beyond the Fireplace: Stone and Tile in the Home
Expand your home's aesthetic horizons. 
Why not bring some of that fireplace elegance to your bathroom? 
Complement your cooking with a tastefully tiled kitchen. 
Delivery Solutions in Southeast Michigan
Last but not least, getting your materials to you. 
Truck Delivery
Dependable and efficient truck delivery to get your stone and tile right where you need it. 
Conclusion
Whether you're going for stone, tile, or a combination of both, Realstone Systems in Troy, Michigan services a 60 mile radius . Time to turn that dream fireplace into a reality! 
FAQs
Can I mix stone and tile in my fireplace design?

 

Absolutely, blending materials can create a unique look.

 

Is it challenging to maintain fireplace tiles?

 

Generally, they're easy to clean and maintain.

 
What types of delivery options are available in Southeast Michigan?

 

Truck delivery is a popular and efficient choice.

 

Is Realstone Systems available in Southeast Michigan?

 

Yes, they offer a wide range of products and are accessible in the area.