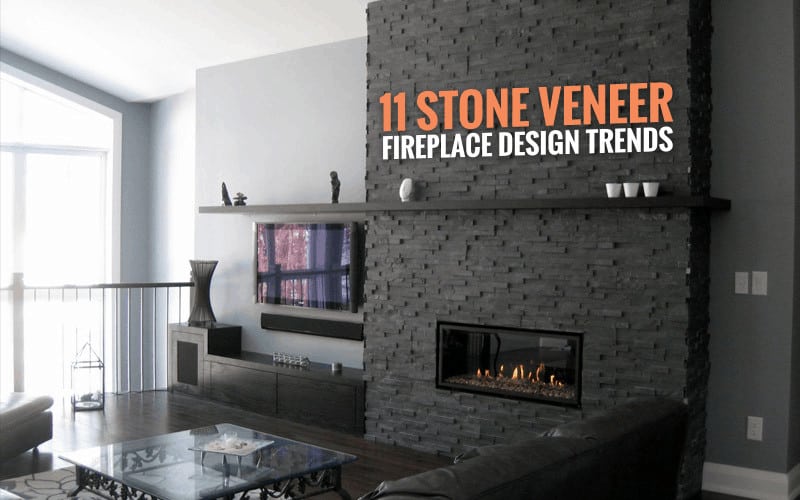 –Carbon Honed Panels in a black stone fireplace
11 Stone Veneer Fireplace Design Trends
Natural stone fireplace surround remains one of the most popular styles of design for all styles of home. Because stone cladding comes in so many colors, shapes, and styles, you can easily find a design that will complement any architecture, interior design, or room of the home.
If you're looking for ways to include the beauty of stone cladding into your home, consider any of these 12 stone fireplace designs created by Realstone customers.
1. Multi-functional Stone Fireplace with Storage
2. Arched Stone Fireplace Surround
3. Reclaimed Wood Mantel with stone veneer Fireplace
4. Floor-to-High-Ceiling Stone Fireplace
5. Clean White Stone Fireplace
6. TV Above the Fireplace
7. Fireplace Banding
8. Modern Multi-Tone Herringbone Fireplace Stone
9. Bathroom Fireplace
10. Multi Sided Fireplaces
11. Outdoor Fireplace
12. Stone Tile Fireplace
1. Multi-functional Fireplace with Storage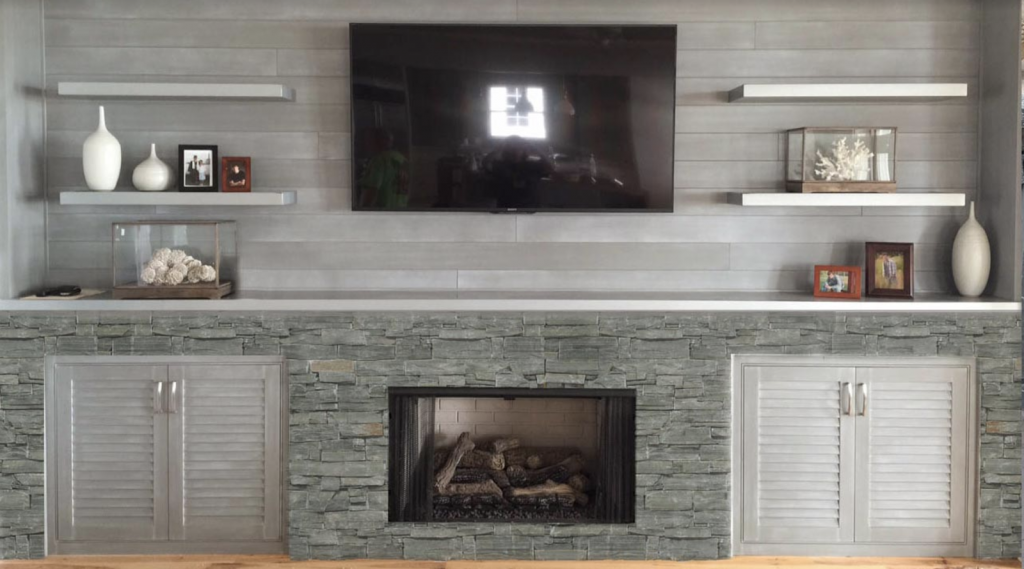 –New York Blue Panels in a ledger stone fireplace
Fireplaces are often the focal point of a room's design, but that doesn't mean that they need to be the only thing installed on that wall. This stone fireplace is flanked on either side by storage cabinets, with both the cabinets and the firebox being framed by the same sage green stone veneer. It gives the entire wall a cohesive look, and a lot of function at the same time.
2. Arched Stone Fireplace Surround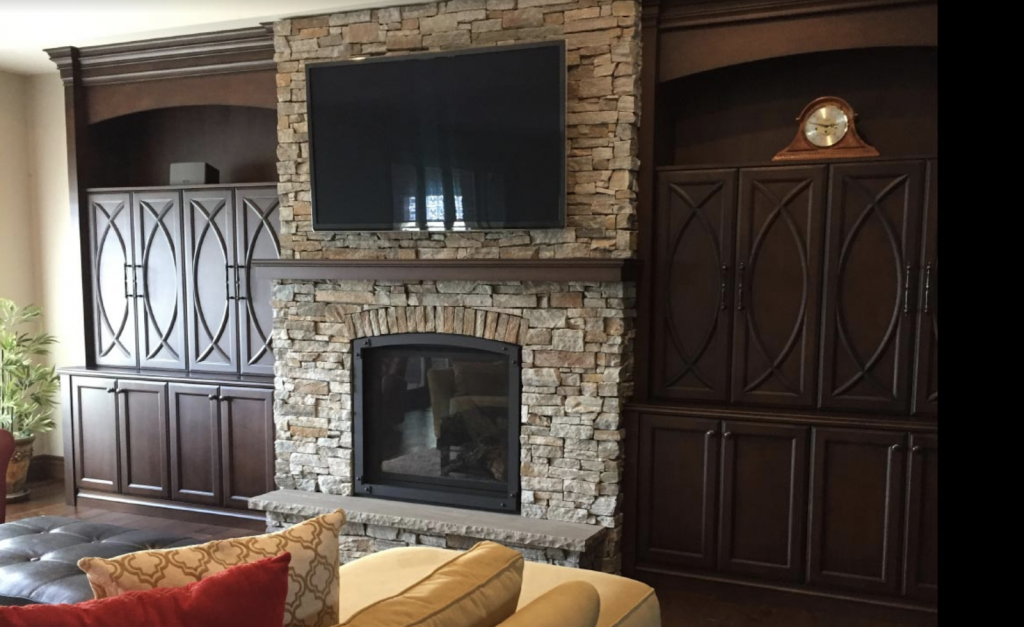 –Greystone Gold Estate Stone Panels
Fireboxes with an arch at the top have a slightly more elegant and formal look than rectangular or square boxes. Help emphasize this shape by framing the top of the arch with stone. This stone veneer surround switches the direction of the tiles just above the box to show off the shape better, and bring more attention to the area.
3. Reclaimed Wood Mantel with Stone Fireplace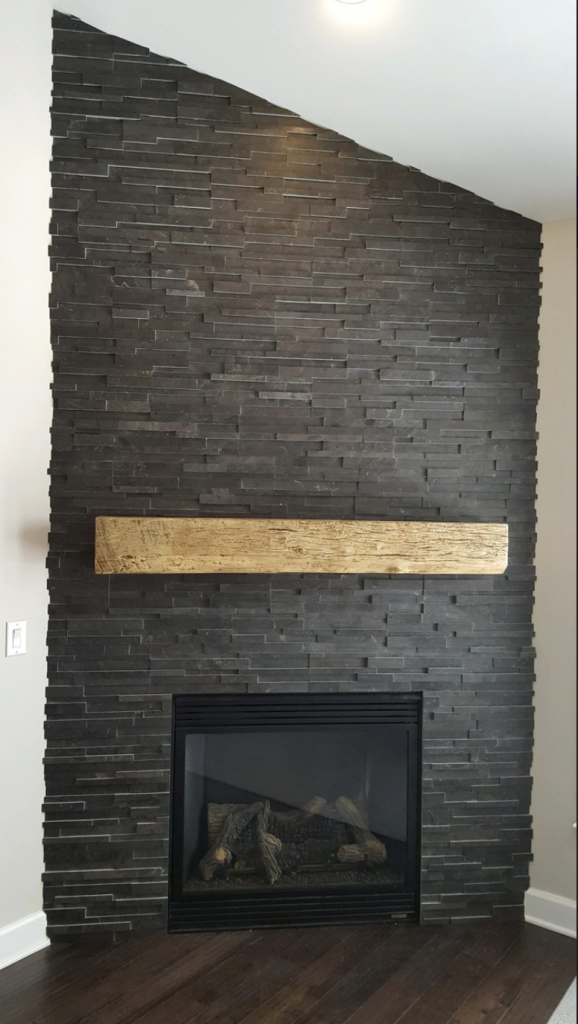 Wood and stone complement one another beautifully in many interior designs. Both are natural materials that often have similar levels of impact on a room's style. Using reclaimed wood adds an extra element of interest; reclaimed wood has a rustic look and a history all its own that helps add depth to the design. This reclaimed wood mantel contrasts the honed stone, adding visual appeal to the area.
4. Floor-to-High-Ceiling Stone Fireplace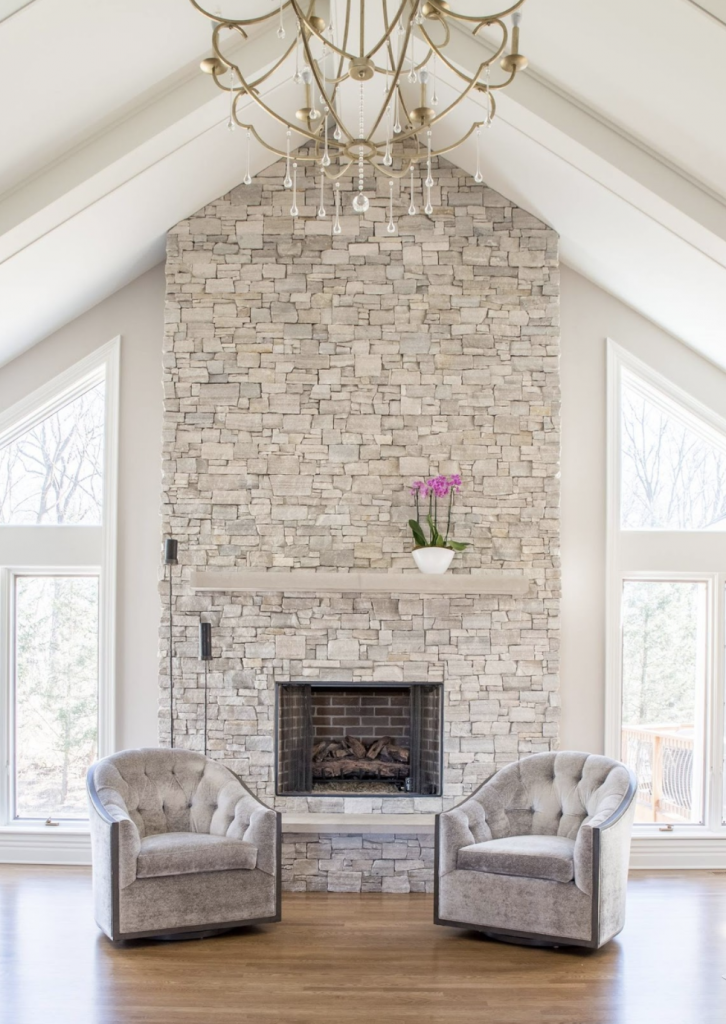 –Berkshire Buff Estate Stone Panels
Nothing makes as dramatic a statement as a fireplace surround that extends all the way to the ceiling. This is particularly true when the room the fireplace is installed in has a particularly high ceiling. This natural stone surround makes an impressive visual display, moving right up to the sloped ceiling, and drawing the eye upward to emphasize the height and shape of the room.
–White Birch Honed Panels
Clean white is a popular color for interior design styles of all kinds. A white stone fireplace is a blank slate; it allows you to include all kinds of other accent colors and hues without clashing. Using only white can also give you a beautiful, monochromatic look for the room as well. This Berkshire Buff fireplace commands the attention of the viewer, extending right to the ceiling, and setting the stage for the rest of the room's design, including the white furnishings and walls.
6. TV Above the Fireplace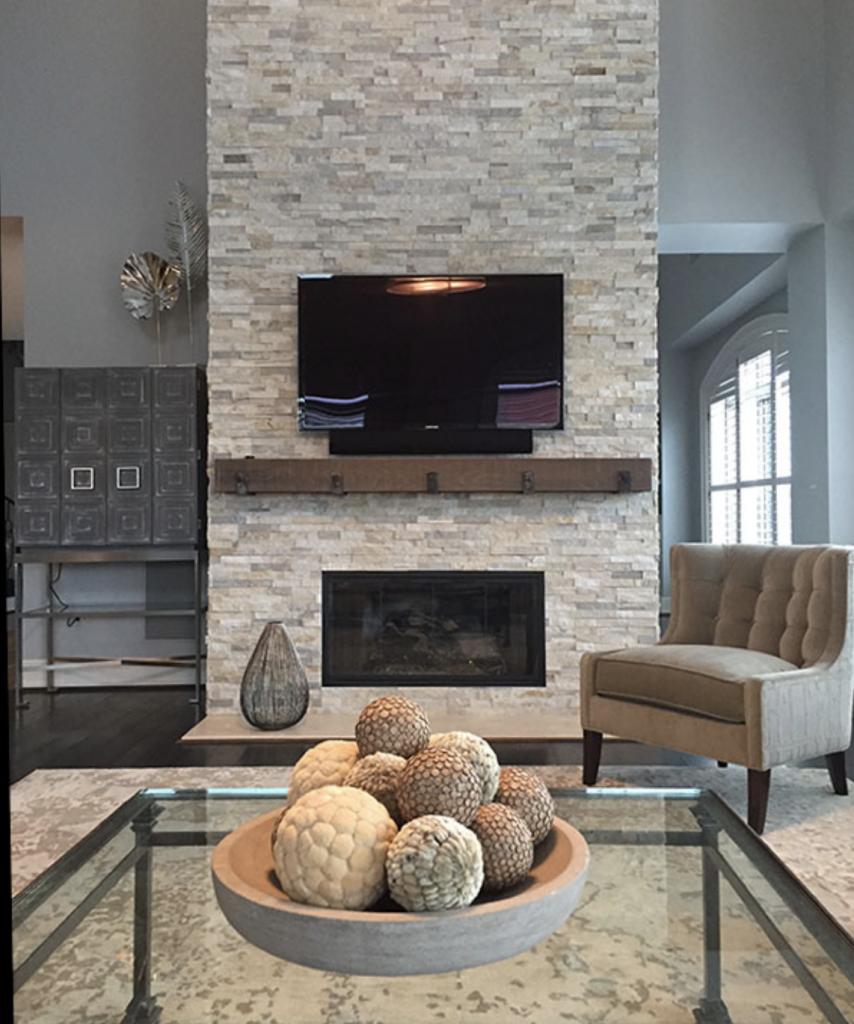 –Silver Alabaster Honed Panels
The fireplace is already the focal point of the room, so why not take it a step further and mount your TV or entertainment center above it as well? By putting both of the natural focuses of the room in one spot, you prevent people's attention from being diverted by one or the other, which makes for a more relaxing atmosphere, and a more cohesive design at the same time.
7. Fireplace Banding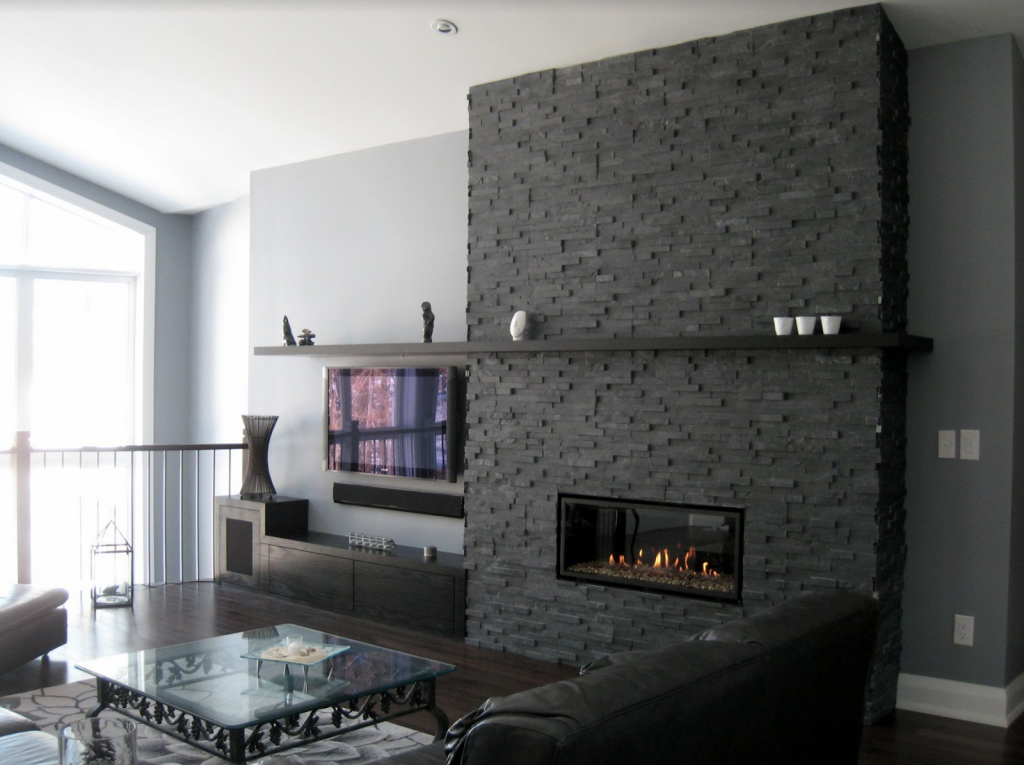 –Carbon Honed Panels
Banding helps push your fireplace into the room by both physically and visually. Many people assume that the fireplace needs to be flush with the wall that it's installed on, but this isn't always the case or the best use of the space visually. Banding wraps the fireplace on three sides, pushing it out slightly from the wall, and creating a 3D effect that's very compelling. When using stone veneer to do the banding, you add even more texture and interest to the design at the same time.
8. Modern Multi-Tone Herringbone Fireplace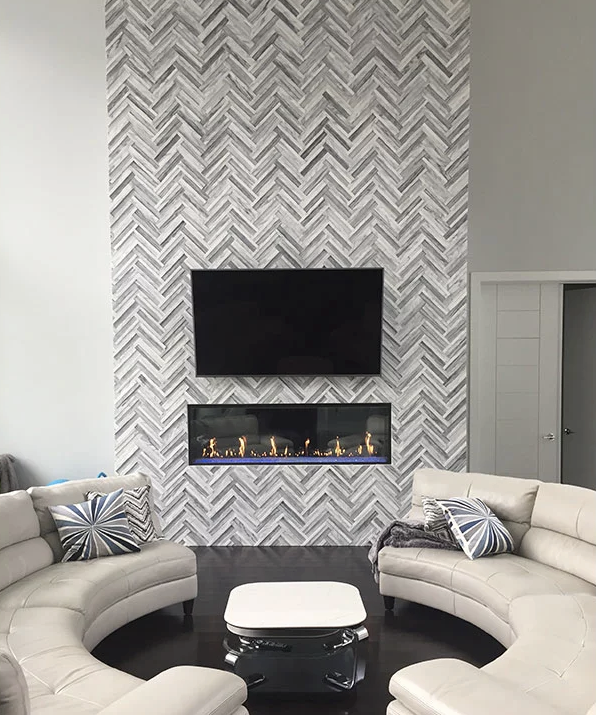 Many people assume that natural stone and stone veneers are only for rustic or traditional fireplace surrounds, but there are many ways to use stone in modern settings as well. One way is to use the stone in a geometric pattern around the fireplace. In this case, a 2 x 8-inch stone tile in a herringbone pattern in multiple shades of gray makes a beautiful, modern statement that adds contrast to the shape of the fireplace insert without overpowering the room with color.
9. Bathroom Fireplace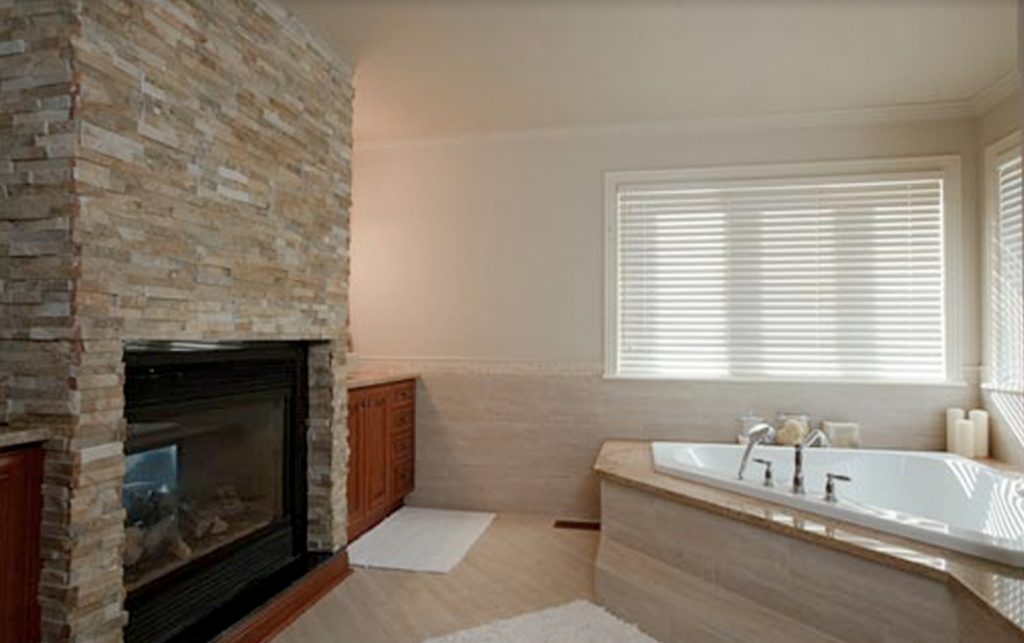 Fireplaces aren't as common in the bathroom as they are in the bedroom, living room, and other areas of the home, but the addition of one can make quite a statement. Situated just opposite a soaking tub, a bathroom fireplace can help create a cozy and relaxing atmosphere that draws people in and makes you feel right at home. This rustic stone fireplace uses banding on the sides to bring it forward slightly, while the warm colors of the stone complement the room's design, and help to create that spa-like atmosphere that people often crave in the bath.
10. Multi Sided Fireplaces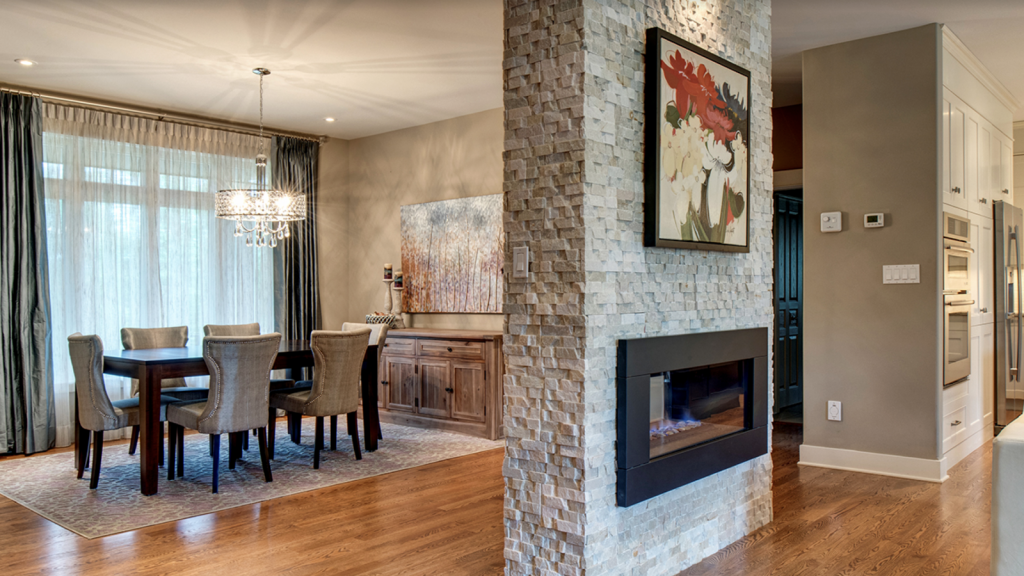 –Chiseled Silver Alabaster Panels
Multi sided fireplaces are becoming increasingly common in contemporary homes, as well as in homes that have open floor plans. This is because you want the fireplace to be the focal point of the room, but if there are few walls to choose from, you may end up situating the firebox too far from usable areas. By creating a multi-sided design, you get the benefit of the fireplace from multiple angles as well, creating the focal point and function you need. In this case, using a small, chiseled stone veneer to wrap the box, you also add a lot of texture and interest to the space.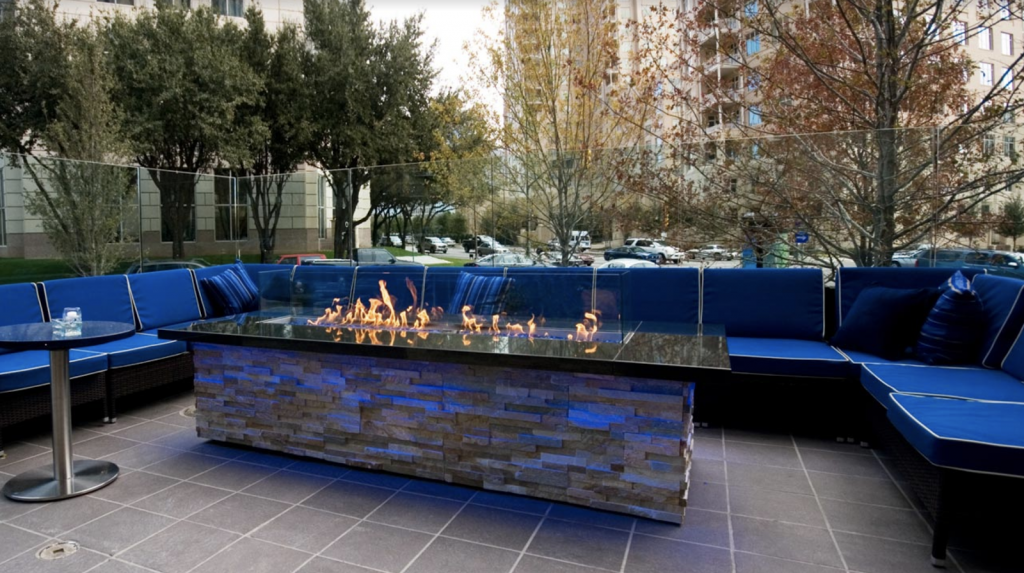 Fireplaces don't need to be confined to the indoors; they can also make a great gathering place and focal point outside as well. And what better way to complement your outdoor fireplace than with a natural stone veneer surround? Stone is the perfect way to dress up an outdoor fireplace, blending in seamlessly with the rest of your surroundings. This walk-around fireplace design makes the perfect place to host a party at any time of year, and the textured stone picks up the glow of the lights beautifully, complementing the entire area.

Whether you have a stone fireplace wall, a ledger stone fireplace or any stone fireplace, matching natural stone accessories can provide a finished look. Some traditional accessories include limestone hearths or other natural stone hearths with either a natural, chiseled or honed finish. A limestone sill can be used as a slim ledge above the firebox.
13. Faux stone fireplace
If you are looking for an alternative to natural stone, faux stone may be the answer. Often at a lower price point, faux stone has vastly improved in appearance and durability over the years. Look for a brand that is tested and looks great too.
If you prefer a smooth surface but still love the natural variation of stone, stone tile is the look for you.
Create a Better Fireplace Surround
There are few materials that make a better fireplace surround than natural stone veneers. Stone has a beauty and elegance that can't be found with any other material, and with so many colors, styles, and shapes to choose from, it's easy to find a stone that can complement your home, whether your style is traditional or contemporary in design. Get a better fireplace design by using stone veneers, using any of these 12 designs or creating your own, and make a beautiful statement in your home that you can be proud of.