Natural stone is one of the most popular surface finishing materials used in and around the home. From fireplaces to backsplashes, stone enhances every area it's installed on. While stone can come in a variety of styles, there's something about a stacked stone installation that can really add visual interest to a room. These 13 stacked stone veneer panel ideas will help you get started.
Stacked stone veneer panels are made up of tightly fitted, dry stacked pieces of stone, some honed, some with a cleft face. Without a grout joint to create a grid effect, stacked stone installations have a more natural appearance that focuses on the stone itself, and not on the area it's installed on.
If you're looking for a way to add detail, interest, depth, and richness to your home's interior or exterior, check out these 13 stacked stone panel ideas to gain some inspiration for your next project.
1. Luxury Bathroom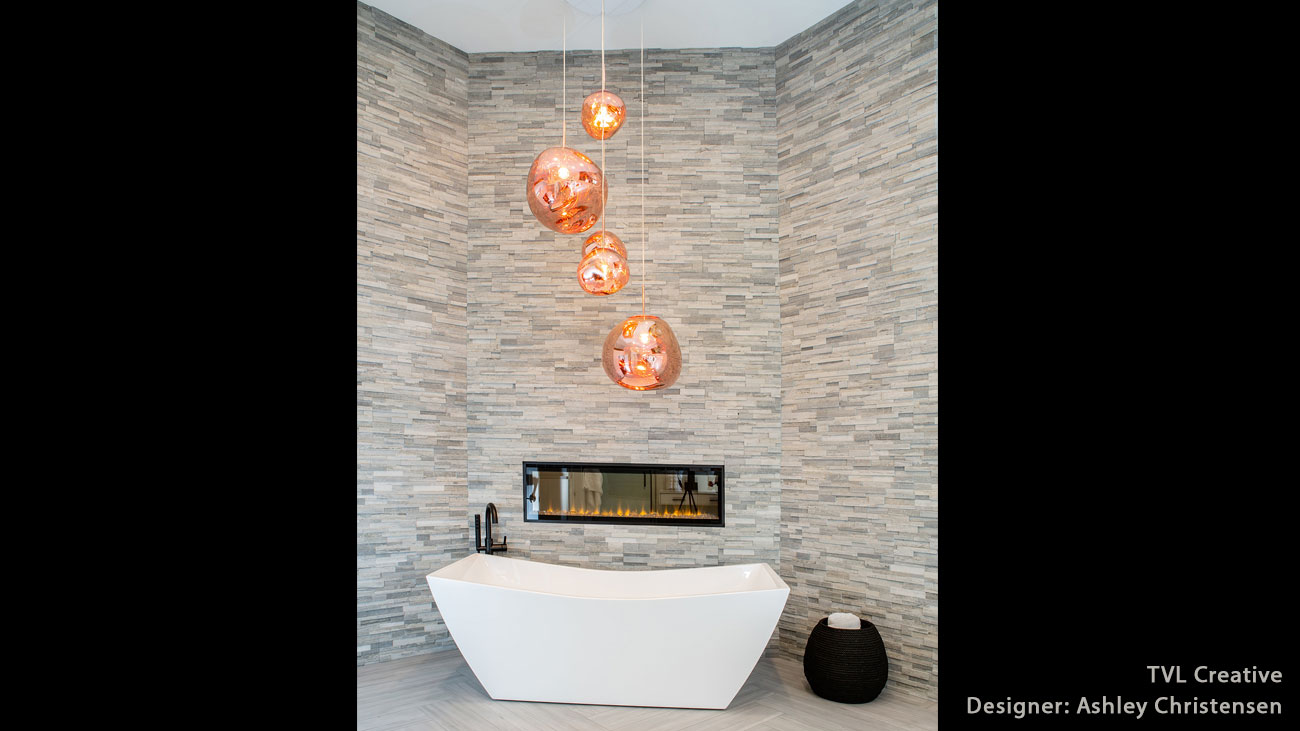 Subtle pewter grey stone veneer is the perfect backdrop for glamorous, contemporary chandeliers and a smooth white slipper tub. The contrast of textures and subtle color make this bathroom a delight.
2. Honed Stone Doorway
There are countless areas in and around your home that can be enhanced with stone. This black stacked stone tile doorway ushers people into the room with style. The honed granite makes an elegant backdrop for the rest of the room's furnishings, and lets you use a wide range of accent colors, which can pop against the black and white stone, such as those turquoise throw pillows.
3. Built-In Stone Benches
A stacked stone facade doesn't need to be confined to the indoors; this multi-dimensional honed limestone makes a stunning statement in this pool area. Used to line the steps, the benches, fireplace, and waterfall feature in the pool, the crisp stone pieces create a contemporary, yet natural design that works beautifully in the outdoors. 
4. Rustic Backsplash
The kitchen backsplash is one of the most unique areas in the home, able to be tiled in any material or style. If you want your backsplash to have a more rustic, less polished appearance consider a white stacked stone veneer in a split face finish. The shadows cast over the tiles by the cabinet lighting add a lot of dimensions and visual interest to the stone, enhancing the kitchen design.
Because the backsplash often helps create and set the theme of a kitchen design, using a rustic tile in this area can help give your kitchen a more natural or country appearance – a style that's been popular for the last several years.
5. Honed Bathroom Accent
Countertops in the kitchen area aren't the only places that need a splash guard; sometimes freestanding tubs in the bathroom need a surround as well. In this case, a stacked stone tile of honed limestone in a soft, muted gray is the perfect complement to the marble shower nearby, adding interest to the space.
In this installation, the clean lines and muted color also make a subtle contrast to the veins of the marble in the shower. The color of the limestone picks up the veins perfectly, but the architectural look of the honed stone creates a very different look for this area, which helps define it better, even while ensuring the continuation of the color scheme.
6. Contemporary Bar Backdrop
Having an in-home bar is quickly becoming a popular trend amongst younger homeowners, who also value contemporary and open design. Complete your bar area with an accent wall made of honed travertine stacked stone veneer tiles. With clean edges and varying amounts of depth, the tiles help give an architectural appearance to the bar, but without competing with the rest of the room's design.
The neutral yet warm color of the stone also makes a beautiful backdrop against the glass bottles displayed behind the bar. Stone complements so many colors and other materials, that no matter what you want to put in your bar area, the travertine is sure to make it pop. Here are more stacked stone veneer panel ideas
7. Living Room Accent Wall
–White Birch Thin Honed Panels
If your living room décor is looking a little bland, or you're looking for a way to make your collectibles really pop, a finely textured accent wall is a very effective method of updating your design. Rather than opting for a flat color, this accent wall makes great use of stacked veneer stone in a very thin, honed limestone. The many, thin pieces of stone help to give it a lot of visual interest and movement, while the clean lines and edges of the tiles keep the entire design contemporary and in keeping with the rest of the room's décor.
8. Expanded Backsplash Design
Backsplash materials don't need to be confined to the area between the counter and the upper cabinets. Sometimes, taking the same material and using it in another part of the room can help create a more dynamic and interesting design, without overwhelming small spaces that can't handle multiple materials or styles. In this case, the same honed limestone used on the backsplash is also used to line a column near the entrance to the kitchen. Together, they create a contemporary and unique kitchen design that enhances the style of the space.
9. Oversized Surround
If you love the look of a rustic fireplace surround, why not take that material and expand it into more of the room as well? This slate stacked stone veneer is used not only around the fireplace itself, but also wraps the corner to become an accent wall in its own right. This adds a lot of rustic modern appeal to the space, and helps create a cohesive design between the two areas of the room. Because the stone can turn corners easily, without need of a bullnose or separating edge piece, you can create multi-dimensional and interesting effects like this one with ease. Keep reading for even more stacked stone veneer panel ideas!
10. Bathroom Backsplash
–Arctic White Shadowstone Panels
Get more from your bathroom design by including a counter to ceiling backsplash behind the sink, instead of the traditional 4-inch display. This white stacked stone veneer backsplash has a dynamic split face that contrasts well with the contemporary vessel sink and granite countertop. Together, they create a focal point in the bathroom that is sure to draw everyone's attention.
While this particular sink has no mirror, a similar effect could still be achieved by using the stone to frame out a frameless glass mirror, with the stone still extending to the ceiling. Now, you can gain additional function, without sacrificing style.
11. Multi-Color Stairwell Wall
–Greystone Gold Estate Stone Panels
One of the misconceptions of natural stone is that it's only marble or only single colored stones. This slate stacked stone veneer, however, comes in a range of colors that can enable you to pull several accent colors for the rest of the room. By adding a darker accented trim at the edges, you create a wall that really turns heads and solidifies the design into something beyond the ordinary.
12. Multiple Accent Points
–Mountain Rust Ledgestone Panels
Why stop at one wall or one accent in a room when bringing the beauty of natural stone veneer panels to your home? In this installation, the repeated use of the same split faced slate stacked stone tiles creates a very cohesive design with a natural, soothing appearance. The same is seen on the walls entering the room, around the base of the columns, and around the fireplace surround. Together, the different areas pull together and set the theme of the room, as well as the overarching style. The natural wood floors and column pair well with the slate to create a rustic modern design that has nearly universal appeal.
13. Inset Accent Wall
Just because you're creating an accent wall to add style and interest to a room, doesn't mean that the wall needs to go unused. In this case, the slate stone veneer wall panels are used to frame out the bookcases that are set straight into the wall itself. This type of niche installation helps make the most of space in smaller rooms; instead of taking up valuable floor space, you get the function of the bookcases in a smaller footprint. By surrounding the bookcases with the same slate, you get a more interesting effect, which in turn helps to create a focal point for the room at the same time.
Update Your Home with Stacked Stone Veneer Panels
Stacked stone veneer tiles and panels come in a wide range of colors, styles, and finishes. They also complement a wide array of areas within the home. If you're looking for a way to add depth and interest to rooms, as well as a way to help set the style of a space, consider adding some stacked stone veneer to help achieve your goals.
FAQs (Frequently Asked Questions)
Is stone veneer expensive?

The cost of installation includes the cost of the material, for example, stone veneer panels, and the cost of installation. The cost of installation includes all materials plus time to install. Many DIYer's do not include their time cost, but professional installers do include the cost of installation time. The cost of stone veneer varies depending on the type and quality of the product. Generally, natural stone veneer tends to be more expensive than manufactured (

faux stone

) options, but both can be affordable depending on the brand and style. Note, a full bed stone is usually the most expensive option.   

 
Can stone veneer be installed over existing surfaces?

Yes, stone veneer can often be installed over existing surfaces. However, it's essential to ensure that the surface is clean, dry, and structurally sound before installation.  It is always necessary to follow your local building codes.  

 
How do I maintain my stone veneer?

Stone veneer is relatively low maintenance. Regular dusting and occasional gentle cleaning with a mild detergent and water should keep your stone veneer looking its best.  

 
Is stone veneer suitable for outdoor use?

While this article focuses on interior applications, many stone veneer products are also suitable for

outdoor use

. Be sure to choose a product specifically designed for exterior applications and follow the manufacturer's installation guidelines.  

 
How long does it take to install stone veneer?

The installation time for stone veneer can vary depending on the size of the project, the type of veneer, and your skill level. For DIY installations, expect to spend a weekend or more on the project, while professional installations can typically be completed more quickly. Please see two YouTube videos for guidance. Remember to always follow local building codes.

https://www.youtube.com/watch?v=GgIS-NwRrOU&t=133s

,

https://www.youtube.com/watch?v=4Q2Awsjumm0&t=103s

  

 
How many square feet of the product do I need?

Many companies offer

online product calculators

to assist you with your computations.   

 
Remember, selecting the best stacked stone veneer for your own needs involves considering factors like color, texture, quality, and installation process. By following proper maintenance practices and incorporating design trends, you can create a stunning creation that can last for years. Explore the various options available, consider the design trends that resonate with your style, and seek professional guidance when needed.  
Before you go, please to check out RealStone Systems for more inspiration, design trends, and expert advice on stacked stone.  We are a Michigan based company.  We have been in operation for almost 20 years.  We started off in our home garage and now are proud to say that we sell across North America.  If you are in SE Michigan (the big D) or in the Denver area, please do come in and say hi.  We have great coffee and a great showroom. In Michigan, you can meet, Kerry, Jen, and the rest of the team.  In Denver, Lynda and Corey will have the coffee and tea ready.  
Note: This article is for informational purposes only and does not constitute professional advice. Consult with experts and follow safety guidelines for installation and maintenance.