The Fireplace: A Lifetime Investment
This time of year we start thinking of fall fireplace decor as the weather turns cooler and we drift from the outdoors to the coziest spot in the home. Whether its garlands and candle sticks, mirrors or natural finds, great fireplace decor will get you nowhere without a fantastic fireplace!
A fireplace is not just a source of warmth; it is a statement, a piece of art that stands testament to your style and the aura of your home. When we talk about a natural stone fireplace, it resonates with longevity, promising to add value and grandeur to your home for a lifetime. Moreover, the advent of fireplace stone technology has brought about materials like stone veneer fireplace and faux stone, which are not just visually appealing but also long-lasting. 
Options for Every Budget
Whether you are considering a majestic stone fireplace wall or a simple yet elegant stone cladding, there is something available for every budget. From premium natural stone veneer options to affordable yet stylish thin brick solutions, one can find a range that suits both aesthetic preferences and financial boundaries.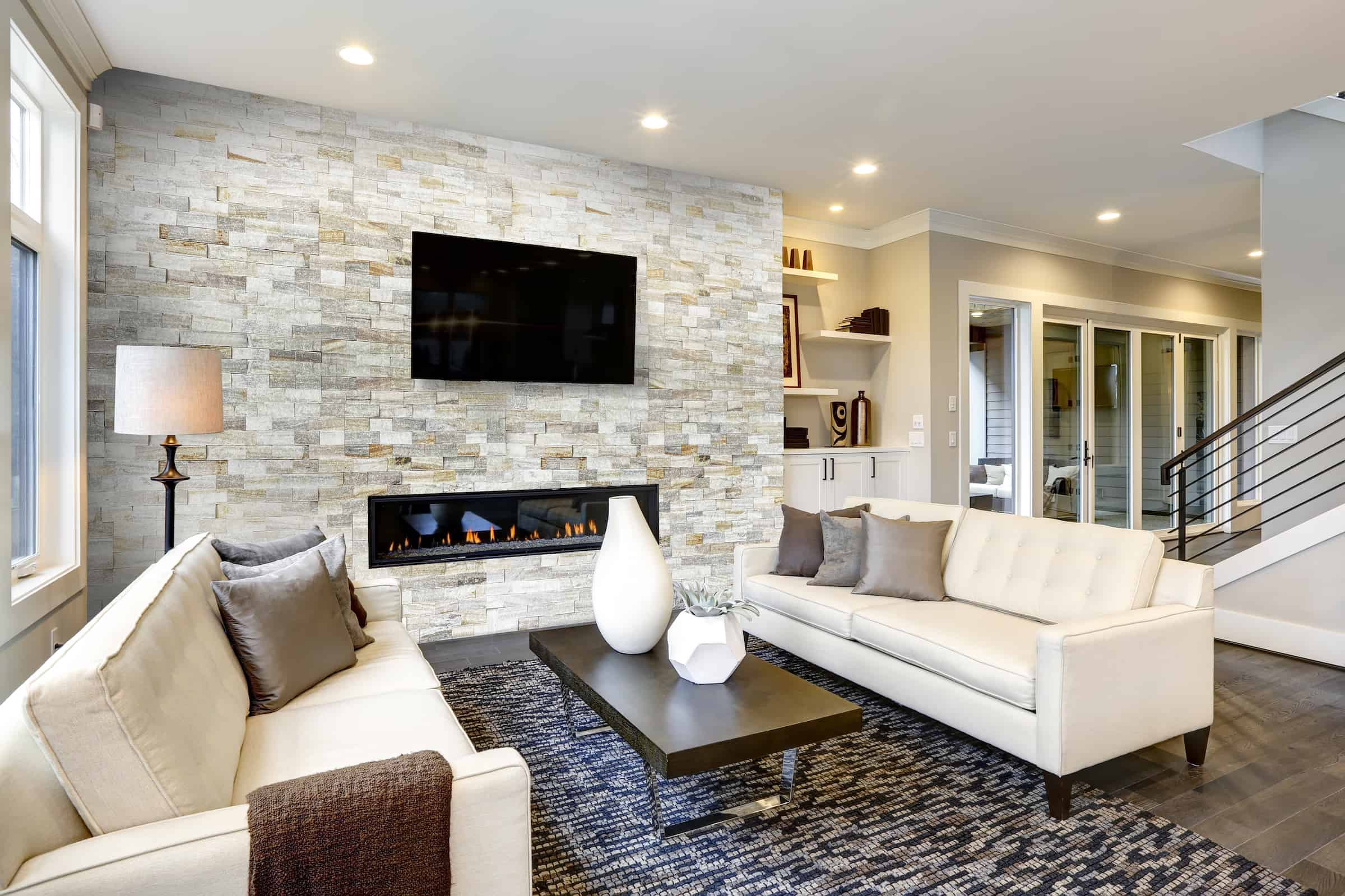 The Core Elements of a Stone Veneer Fireplace
The Beauty of Stone Fireplace Wall
A stone fireplace wall is essentially a timeless piece, adding an element of sophistication to your space. It goes beyond mere functionality, offering a visual treat with its vibrant textures and colors, serving as a striking focal point in any room. Visit this page for trending stone veneer fireplace designs. 
Understanding Veneer Stone Systems
When it comes to veneer stone systems, it brings in a realm of possibilities to explore. The installation is straightforward, catering to both professionals and DIY enthusiasts. For deeper insights into the veneer stone systems, you might consider looking at the trends and ideas here. 
Natural Stone Tile: A Touch of Nature
The natural stone tile infuses the organic and serene vibes of nature into your living space, creating a tranquil sanctuary right in your home. Moreover, these tiles offer a diverse palette of textures and colors, promising uniqueness, and a touch of personal style. 
Your Guide to Choosing the Right Fireplace Stone 
Evaluating Fireplace Surround Stone Options 
Choosing the right fireplace surround stone involves considering various factors, including the texture, color, authenticity, and your budget. Ensure that you go for high-quality stones that complement the existing décor of your home. Dive into the splendid variety of fireplace surround stones here. 
The Magic of Stone Cladding
Stone cladding offers a fantastic way to introduce a rustic yet modern element to your home. It is both visually appealing and gives a sense of sturdiness and style. Learn more about stone cladding options here. 
Stone Fireplace: A Versatile Choice
When you opt for a stone fireplace, you step into a world of versatility with options ranging from rustic charm to modern elegance, enabling you to craft a space that mirrors your personality perfectly. Explore a world of stone fireplaces here.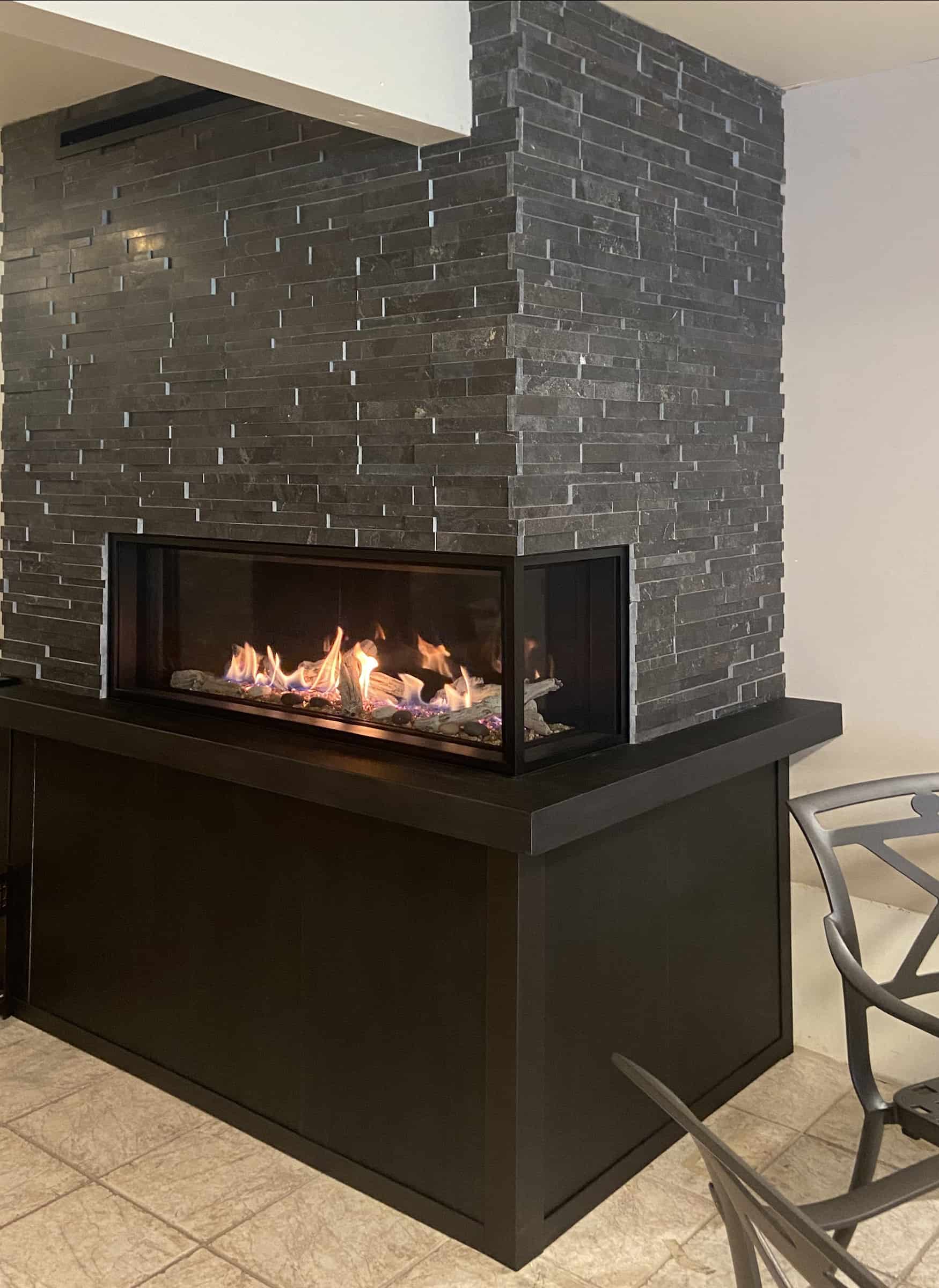 Innovative Fireplace Designs
The Ledge Stone Fireplace Stones Effect
The ledge stone brings a rugged and earthy feel to your fireplace, giving it a grounded yet modern look. Curious to know more? Discover a range of ledge stone fireplace stones here. 
Exploring Natural Stone Veneer Designs
The natural stone veneer offers a rustic charm, creating a warm and inviting atmosphere with its natural textures and earthy tones. It is a style that is both timeless and harmonious, blending perfectly with any interior design theme. Learn more about natural stone veneer here. 
Incorporating a Thin Brick Structure
Thin brick structures are not just economical but also easy to install, making them a hot favorite for fireplace renovations. Moreover, they bring a traditional touch to your modern space. Find more about thin brick structures here.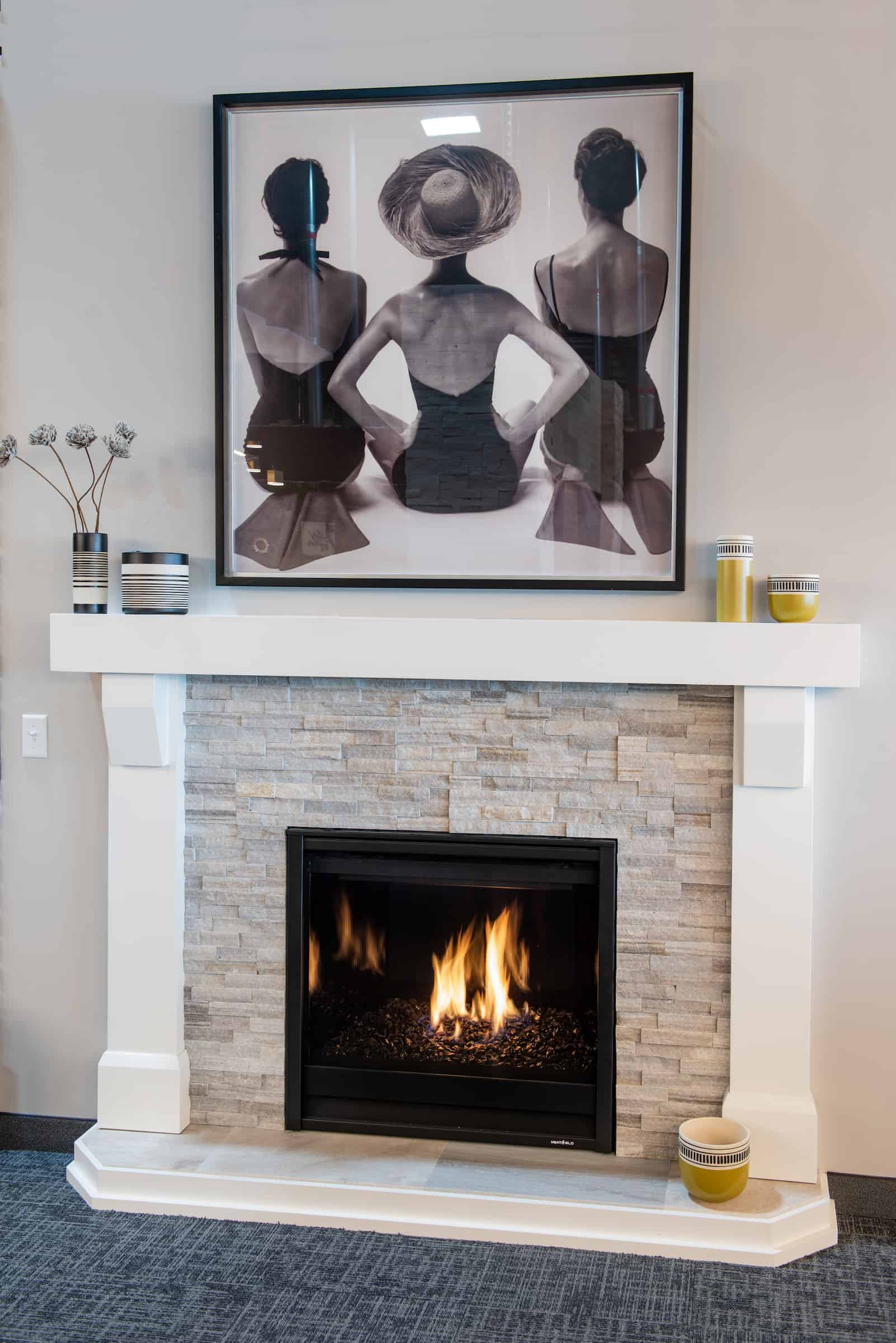 Accessorizing Your Fireplace
Fireplace Stone Accessories
Your fireplace stone accessories are like the jewelry of your fireplace, adding that finishing touch that pulls it all together. From hearths to mantels, the right stone accessories can enhance the aesthetic of your fireplace significantly. Explore a range of accessories at this resource. 
The Charm of Fireplace Mantels
Fireplace mantels are more than just a shelf; they are the frame to the artwork that is your fireplace. Click here to see examples of different mantels. From simple wooden mantels to elaborate stone structures, a mantel can be a place to showcase your style and favorite pieces of décor. 
Modern Fireplace Wall Ideas with TV
Pairing a fireplace with a TV brings a perfect amalgamation of style and utility. It merges the warmth of a fireplace with modern entertainment, promising cozy movie nights with a hot cup of cocoa.  
Beyond the Living Room: Outdoor Fireplaces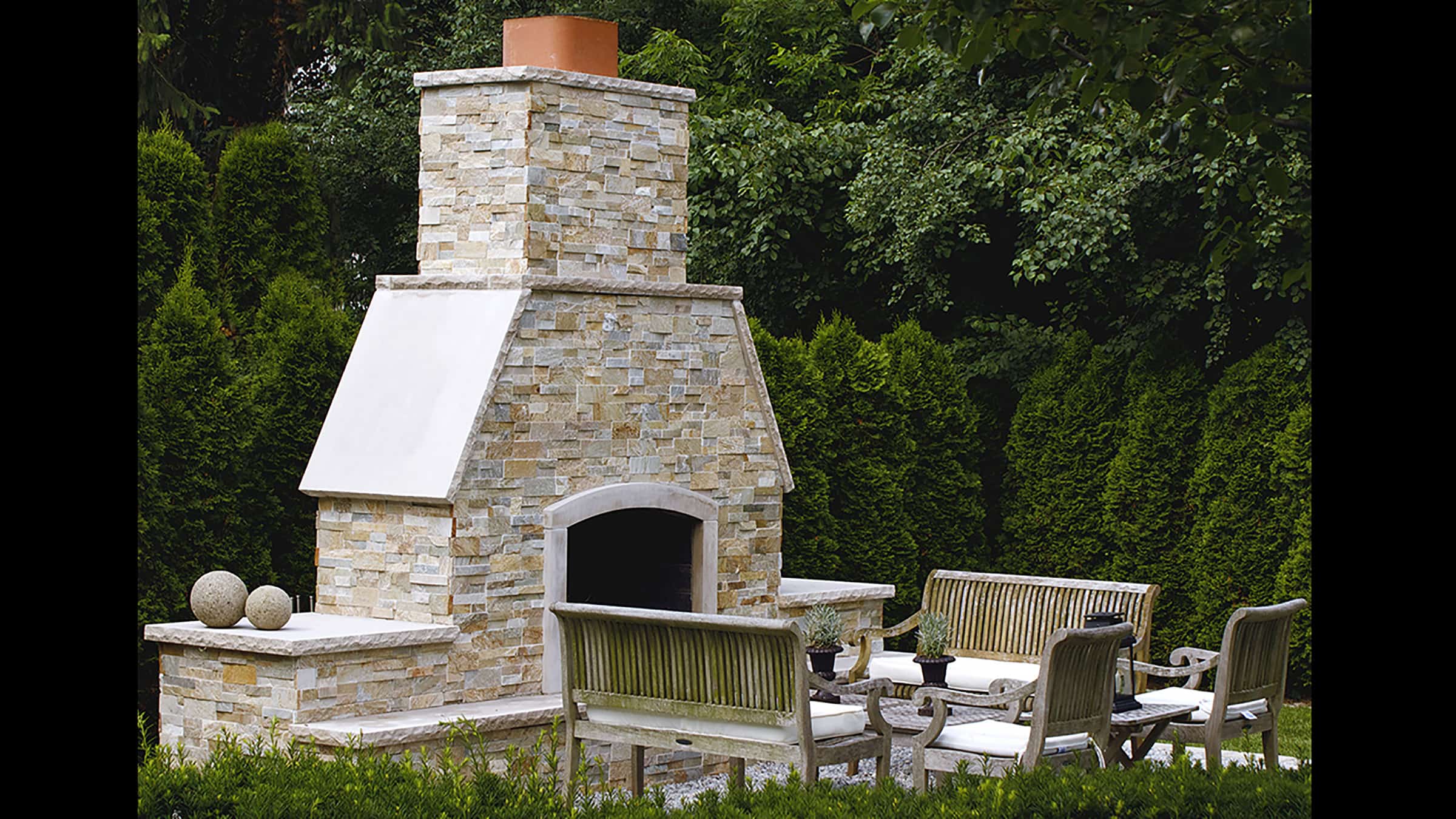 Building a Backyard Fireplace
A backyard fireplace is more than a heat source; it is a place to create memories, share stories, and enjoy precious moments with loved ones. It can become a focal point in your outdoor living space, setting a warm and inviting ambiance for any gathering. 
Choosing Between Gas, Electric, and Wood Fireplaces
Be it a gas fireplace, an electric fireplace, or a traditional wood fireplace, each comes with its own set of advantages. While a gas fireplace offers convenience, electric fireplaces are often cooler which means these fireplaces can use different types of tile that are heat sensitive and can be incorporated into many places that want the beauty but not the heat of a gas or wood fireplace, and nothing beats the charm of a real wood-burning fireplace. To help you decide, we have compiled a comprehensive guide on choosing the right fireplace here. 
Case Study: A Review of Stone Fireplace Transformation
A Fictional Review: The Stone Fireplace Experience
In this fictional review, we delve into a homeowner's journey of transforming their ordinary living space into a warm, inviting, and stylish area with a natural stone fireplace. This section brings you a firsthand experience, painting a vivid picture of the transformation journey. 
Case Study: A Review of Stone Fireplace Transformation
A Fictional Review: The Stone Fireplace Experience
Meet Sarah: A Homeowner with a Vision
In the quaint yet ever-evolving neighborhood of Royal Oak, Sarah, a homeowner with a keen eye for design, envisioned transforming her living space into a sanctuary of warmth and elegance. Sarah had long admired the natural beauty of stone fireplaces and decided it was time to bring that vision to life. 
The Before: A Plain, Uninspiring Space
Sarah's living room initially housed a simple, somewhat outdated, brick fireplace that barely caught anyone's attention. The space felt cold, impersonal, and lacked a focal point that could draw the family together for those much-cherished warm and cozy evenings. 
The Decision: Opting for a Natural Stone Fireplace
After thorough research and browsing through numerous stone fireplace ideas, Sarah settled on a natural stone veneer fireplace. The choice promised not only an aesthetically pleasing result but also a durable and timeless fireplace that could withstand trends and stand tall for years to come. 
The Process: Bringing the Vision to Life
The transformation process was meticulously planned. Sarah chose a harmonious blend of earthy tones from a rich palette of stone veneer options, ensuring the fireplace would emanate a warm, welcoming glow. She opted for a modern layout with asymmetrical shelves that would house her collection of art pieces, bringing a personal touch to the design. 
Incorporating Modern Elements
Knowing well that a fireplace could be more than just a source of warmth, Sarah decided to integrate modern elements into her design. A sleek and contemporary dark stone fireplace with fireplace tiles that complemented the natural stone created a fusion of modernity and rustic charm. The pièce de résistance was the incorporation of modern fireplace wall ideas with TV, creating a space that was both cozy and functional. 
The After: A Living Room Transformed
As the project came to completion, Sarah's living space was transformed into a haven of elegance and warmth. The natural stone veneer fireplace stood as a majestic centerpiece, radiating a heartwarming glow that invited family members to gather, share stories, and create cherished memories. 
The Review: Overjoyed and Satisfied
Sarah could not have been happier with the result. In her review, she shares, "My living space has been transformed from a plain and uninspiring room to a warm, inviting, and stylish area. The fireplace now stands as a testament to elegant design coupled with personal touches that speak volumes about our family's taste and love for finer things in life. Every evening, as we gather around this masterpiece, I find myself falling in love with my home all over again." 
Conclusion
In this fictional review, we journeyed with Sarah, witnessing a remarkable transformation that turned a plain living space into a warm and inviting haven. Sarah's story stands as an inspiration, highlighting the limitless possibilities that a natural stone veneer fireplace holds in elevating a home's ambiance. 
I hope this expanded section paints a vivid picture of the transformation journey. Let me know if this aligns with your vision or if there are any other details you would like to add. 
Bringing It All Together
As we wrap up, it is undeniable that a stone fireplace is not just a functional element but also a statement piece, an embodiment of style, warmth, and elegance that stands the test of time. Whether you are looking to renovate an existing fireplace or install a new one, the options are plentiful and suited for varying budgets and preferences. 
FAQs 
Can I install stacked stone myself?
While it is possible for a DIY enthusiast to install stacked stone themselves, it is generally recommended to hire a professional. This ensures a high-quality, seamless finish that aligns perfectly with your vision. A professional installation guarantees that the necessary safety standards are met, providing peace of mind along with a beautiful new focal point in your home. 
How many square feet of the product do I need?
Determining the exact amount of square footage, you will need can be somewhat complex, as it involves considering various factors including the height and width of the fireplace area, as well as any additional areas you intend to cover, such as a mantel or extended wall. Many companies offer online product calculators to assist you with this computation, helping to streamline the process and ensure you purchase the right amount of material. 
What kind of fireplace options can I explore with a stacked stone veneer?
Stacked stone veneer lends itself beautifully to a range of fireplace options, allowing you to choose from a gas fireplace, a traditional wood fireplace, or even an electric fireplace. You can even extend your living space outdoors, opting for a stunning outdoor or backyard fireplace. 
Can I incorporate modern elements like a TV into my fireplace design?
Absolutely! Modern fireplace designs often integrate elements such as televisions to create a functional yet stylish focal point in the room. Integrating a TV into your fireplace wall allows you to blend technology and style seamlessly. When doing so, it is essential to consider factors such as the height at which the TV will be mounted and ensuring that all wiring is neatly concealed to maintain a sleek, clean look. 
What are some accessory options I can consider for my stone fireplace?
Your stone fireplace can be further enhanced with a variety of accessories, such as fireplace mantels that add a decorative touch and provide a showcase for personal items. Consider adding fireplace tiles for an elegant finish or incorporating decorative elements like a white brick background to create contrast and add depth to the overall design. 
About the Author  
Shea is based in the Metro Dallas area.  She is an experienced professional.   She has a passion for creating captivating and functional spaces. Shea has in-depth experience working with both residential and commercial designers. With a keen eye for detail and a knack for blending styles, she is adept at meeting the unique needs and tastes of each client.